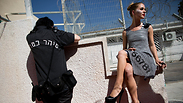 Alert the fashion police: Prisoners in an Israeli jail have presented their debut collections, bringing the do's and don'ts of design straight to the halls of a penitentiary.

Neve Tirza prison, Israel's only women's prison, hosted its first fashion show on Monday where models on towering heels strutted on a red catwalk, showcasing clothes designed and made by inmates.




The prisoners were all part of a rehabilitative project meant to grant them skills they might use upon their release, as well as restore self-confidence following an extended period in jail.

"The intention was to give real tools and create something that is new and through fashion to create a better society," said Yaniv Schwartz, who manages business development for Studio 6B, the Israeli design school behind the fashion show.

The prisoners, working alongside students from Studio 6B, created collections inspired by anything from British military wear to Indian religious symbols. The clothes were embellished with neon flowers, animal prints and geometric shapes. One grey sleeveless dress bore a prison serial number.





Beyond the fashion designers, other inmates also took part. Prisoners studying makeup application or hairdressing at the jail joined in to style the models, who wore white avant-garde streaks on their cheeks. Once dressed, the models paraded down a red carpet lined by prison fencing topped by rolls of barbed wire.

"We take advantage of the jail term. We want to get the inmates to return once they are released with better opportunities," said Nicole Englander, a spokeswoman for the prison. She said an inmate who studied clothes design in jail continued her studies once she was released.

The jail houses more than 200 prisoners, aged 18 to 60 or 70, Englander said.

Here are a series of images by Associated Press photojournalist Oded Balilty of the prison fashion show.