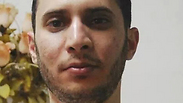 Muataz Hijazi, who is suspected of committing the assassination attempt on right-wing activist Rabbi Yehuda Glick's life on Wednesday night, was an Islamic Jihad operative and has spent 11 years in Israeli prison over security-related offenses.

Hijazi, aged 32 from the East Jerusalem neighborhood Abu Tor, was shot to death by elite Border Guard counter-terrorism unit (Yamam) early Thursday morning.

In 2000, Hijazi, who has Israeli citizenship, was sentenced to 6 years in prison for a series of arson attacks in Jerusalem, but his jail time was extended while in prison after he was involved in two serious attacks of wardens. He was released in 2012, after spending some of his imprisonment in isolation because of his violent behavior.

In his initial sentencing, he was convicted of seven incidents of arson in 17 days, some of them were in electrical enclosures in Jerusalem schools. While damage was caused, no one was hurt.

The court ruled that Hijazi was "systematically working to set fire to houses in the Kiryat Yuval neighborhood, where he was supposed to help his father deliver newspapers, using his knowledge of electricity."

According to a report from the Probation Service, Hijazi felt his honor slighted and committed the offenses out of frustration. It was determined that the offenses were "unequivocally committed in order to harm others and out of nationalistic reasons."

During his trial, Hijazi claimed that while he greeted the Jewish residents of Kiryat Yuval every morning with "good morning," he was answered with "Arab sonofabitch."

The first incident that led to the extension of his imprisonment occurred in January 2001. He seriously wounded two wardens in the face with a razor blade. He admitted to the offense and was sentenced by the Ramle Magistrate's Court to seven years in prison - five of them in addition to the original sentencing.

The second incident occurred in 2003, when he seriously wounded another warden in the face while he was in isolation. This time he was sentenced to four years in prison, two of which in addition to his sentence.

In a third incident, he poured boiling hot water over another prisoner.

His appeal to the Supreme Court, asking to be let out of isolation, was rejected when the judge determined Hijazi's behavior remained the same even after he was put in isolation.

In an interview following his release from the Israeli prison, Hijazi said: "I'm glad to be back in Jerusalem. I hope to be a thorn in the Zionist plan of Judaizing Jerusalem. What makes me most happy is to return to Jerusalem, to Bait al-Maqdis, to be among my family and people."

Hijazi, who went to Ort high school in Sheikh Jarrah, was trained as an electrician and worked as an aide to an electrician for short periods of time. In addition to that, he helped his father deliver newspapers in Kiryat Yuval neighborhood in Jerusalem.

MK Orit Struck said Thursday that "the fact a released terrorist, who was just freed two years ago after 10 years in prison, decides to commit another terrorist attack, is a result of the enormous salaries Abbas pays convicted terrorists, salaries that made terrorism into quite literally a profitable business. The government must, at long last, destroy the bank of terror operated by the Palestinian Authority."
'My son was set up'
"My son did not shoot anyone. He was set up. He's an honorable man who has never even thought of causing trouble or harming others," Hijazi's mother, Shadia Hijazi, claimed on Thursday.

"My brother didn't even know how to hold a knife," Hijazi's sister Shimaa added.

Hijazi had been employed at the Terasa restaurant in Jerusalem's Begin Center, outside of which Glick was shot. A shift manager that spoke with Ynet said that he had let Hijazi go at 9:40 pm, half an hour before the shooting took place.

According to Hijazi's mother, her son asked her to pray for him before he left for work, as he did every day.

"What happened is a crime that an Israeli cell is responsible for," she said.

"We've been suffocated, there are no prayers at al-Aqsa and we can't walk around freely. We feel like we're in jail. All of our roads are blocked and we also suffer from the high cost of living and suffer socially," she added.

"I still don't believe my son shot a right-wing activist. All of the neighbors say he is a wonderful man and can't believe he did this."

At 5:30am, the YAMAM arrived at the Hijazi home in Abu Tor and located the suspect.

"I heard yelling and when I looked out the window I saw a lot of soldiers," Hijazi's sister said. "I was sleeping at my brother's house and I saw soldiers grab him. Within seconds I heard gunfire and I heard my brother yell 'Allahu Akbar.' The soldiers also prevented us from seeing what was going on. The soldiers wouldn't let anyone come close or open a window. They threw stun grenades and tear gas at us and wouldn't let the medical team treat my brother, who was bleeding while the soldiers were around him."

The sister went on to say that "the Jews are persecuting all of the residents of East Jerusalem. Perhaps whoever shot the right-wing activist is one of the Jews but they want to lay the blame on us. They should launch an investigation. My brother was killed only because he's a freed security prisoner."

Gilad Morag, Aviel Magnezi, Yoav Zitun and Hassan Shaalan contributed to this report.