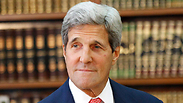 US Secretary of State John Kerry
Photo: Reuters
US Secretary of State John Kerry distanced himself on Thursday from derisive remarks a US official made about Prime Minister Benjamin Netanyahu in an interview with The Atlantic.

The Atlantic's Jeffrey Goldberg quoted an American official on Tuesday as calling Netanyahu a "coward" on tackling Iran and "chickenshit" who is only interested in his own political survival.

Goldberg writes that over the years Washington officials have described Netanyahu as recalcitrant, myopic, reactionary, obtuse, blustering, and pompous – but none of these insults were as surprising, he says, as "chickenshit."

Kerry called these comments "outrageous and unacceptable."

"We condemn anybody who uses language such as was used in this article," Kerry told an audience at the annual Washington Ideas Forum in his first comment on the issue. "It does not reflect the president, it does not reflect me, it is disgraceful, unacceptable, damaging."

The expression "chickenshit" is used to mean a worthless coward.

"I have never heard that word around me in the White House. I don't know who these anonymous people are who keep getting quoted, but they make life much more difficult," Kerry added.

With that Kerry becomes the most senior official in Washington to condemn the comments and disavow them. Wednesday saw condemnations from spokespeople in the White House, the State Department and from National Security Adviser Susan Rice.

Netanyahu himself addressed the reported name-calling directly during remarks at the Knesset, saying his main focus was the security and unity of Jerusalem.

"Our supreme interests, chiefly the security and unity of Jerusalem, are not the main concern of those anonymous officials who attack us and me personally, as the assault on me comes only because I defend the State of Israel," he said.

"I don't know who these anonymous people that we keep getting quoted in things," he said on Thursday. "But they make life much more difficult."

Touting President Obama's support for Israel, Kerry said that "President Obama is the person who committed to Iron Dome. He made it happen. President Obama has consistently been supportive of Israel's right to defend itself."

Kerry said the only way to resolve tensions between Israelis and Palestinians was to bring the sides together to negotiate a peaceful settlement. "We still believe it is doable, but it takes courage and strength," he said, "both sides have to be prepared to compromise in order to do it."