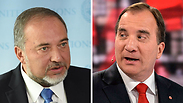 Lieberman and Swedish premier Stefan Lofven
Photo:Reuters, Shahar Azran
Foreign Minister Avigdor Lieberman recalled Israel's Ambassador to Sweden Isaac Bachman to Jerusalem for consultations on Thursday in the wake of the Swedish government's decision to recognize a Palestinian state.

The ambassador was recalled to discourage other European countries from making similar moves to recognize Palestine.

The recall for consultations is not normally limited in time and depends on how deep the rift between the two countries is.

Israeli officials said Jerusalem was considering additional steps. After the ambassador returns to Israel, the option of keeping him in Israel until further notice will be considered.




The meaning of such a move would be a downgrading of the embassy in Stockholm. However, the estimates in Israel are that the ambassador will be sent back to Stockholm after only a short period of time.

During Operation Protective Edge, five Latin American countries, including Brazil and Peru, recalled their ambassadors from Israel for consultations as an act of protest against the IDF's actions. The ambassadors returned to Israel a month later at the end of the operation.

Earlier Thursday, Lieberman described the Swedish government's decision as "a miserable decision that strengthens the extremist elements and Palestinian rejectionism."

The foreign minister said the only way an arrangement between Israel and the Palestinians can be reached is in honest negotiations between the two sides. "Meanwhile this kind of moves on strengthen the Palestinian's unrealistic demands and push an arrangement further away.

"It's a shame that the government of Sweden chose to take a declarative step that only causes harm."

He quipped that "the Swedish government should understand that Middle East relations are more complex than a piece of self-assembled Ikea furniture, and the matter should be handled with responsibility and sensitivity."

Sweden's decision to recognize Palestine made it the first country in the European Union to do so.

Wallstrom said Sweden's move aimed at supporting moderate Palestinians and making their status more equal with that of Israel in peace negotiations, as well as giving hope to young people on both sides.

"We are taking the side of the peace process," she said.