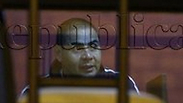 Peru's Counterterrorism Unit foiled a Hezbollah terror plot this week when it arrested a Lebanese man suspected of leading a terror cell planning to attack Jewish sites and popular Israeli tourist spots in the South American country.

Peruvian security forces found materials for the production of military-grade explosives, detonators, TNT explosives and gunpowder in the apartment of Muhammad Amadar, 28.

Amadar, who was arrested on Monday, has already gathered intelligence on Israeli and Jewish targets, including the Israeli Embassy in Lima, Chabad houses and Jewish community centers.

He was living in Lima's Surquillo neighborhood, close to the neighborhood that houses the Israeli Embassy and the homes of the Israeli diplomats.

In his interrogation, Amadar denied having any ties to Hezbollah and claimed he was on his way to the US, to meet with his Peruvian-American wife.

Peru's Interior Minister Daniel Urresti issued an official statement saying a man with ties to an "international terror organization" was arrested following intelligence information. An arrest warrant was issued by the Third National Criminal Court for Organized Crime.

According to reports in Peru, the terror cell Amadar put together is linked to Hezbollah's vast network in the Triple Border area between Argentina, Paraguay and Brazil, where there's a large Arab population.

Israeli security forces were briefed by Peruvian authorities on the investigation. Peru has also increased security for the Israeli Embassy in Lima, as well as for Israeli tourist destinations and Jewish centers across the country, particularly in the capital.

Israel's Counterterrorism Unit and the Foreign Ministry in Jerusalem refused to comment on the report.

"A Hezbollah operative was arrested in Peru after he started building an infrastructure for terrorist attacks against Israeli and Jewish targets in Peru," Israeli security officials said.

"They found explosives in his apartment. The man is linked to Hezbollah's international terrorism infrastructure. It proves what we've been saying for a long time - Hezbollah, sent by Iran, or Iran via Hezbollah, are building a terror infrastructure in South and Central America to attack Jewish and Israeli targets, Israeli tourists, embassies and Jewish centers.

"This infrastructure is also meant to be used for attacks against Western targets and for attempts to smuggle weaponry to the United States," the officials went on to say.