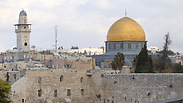 Tensions hit new high in Jerusalem
Photo: Gil Yohanan
Clashes broke out between young Palestinians and Israeli security forces following Friday prayers, after the Temple Mount reopened with a heavy police presence and tight age restrictions.
At the Qalandia crossing between the northern West Bank and Jerusalem, clashes erupted following a march organized by Hamas. According to Palestinian reports, several youths were wounded as riot police used tear gas to disperse dozens of rock-throwing Palestinians.
The militant Hamas organization has been ruling the Gaza Strip since a bloody coup in 2007, but its ongoing rivalry with Palestinian President Mahmoud Abbas' Fatah movement and crackdowns by Israeli security forces have kept its West Bank presence on a smaller scale.
During prayers, young Arabs rioted and set off fireworks on Old City rooftops close to the entrance to the Temple Mount, but no out-of-control clashes were reported. A group of Palestinian youths had tried unsuccessfully to break through a police cordon blocking entrance to the Mount in the same area earlier Friday.
Fighting was also reported Friday in the Jabel Mukaber area of East Jerusalem and the West Bank city of Hebron.
Protests in East Jerusalem (צילום: רויטרס)
In the Abu Tor neighborhood, home to the suspected gunman who shot Yehuda Glick on Wednesday night and who was himself killed in a shoot out Thursday morning with police, masked rioters blocked the road and threw fireworks at cars. Stones were also thrown at a car near the Naomi Shemer tunnel at Mount Scopus. No injuries or damage were reported.
Israel opened the Temple Mount site for Muslim prayers amid tight security Friday morning, bracing for violent riots after clashes the previous day between Palestinians and Israeli riot police ratcheted up already heightened tensions in the city.
Some 1,000 security forces were deployed to the site, open to Muslim men over the age of 50 and women of any age.
Small groups of Palestinian worshippers made their way through a welter of Israeli checkpoints to the site -- known to Jews as the Temple Mount and Muslims as the Noble Sanctuary -- under leaden gray skies and pouring rain.
The age limits were implemented after some Palestinians called for a "day of rage" and intelligence information indicated that young Arab men were planning to riot there after prayers were over.
The decision to reopen the flashpoint compound was taken after a massive wave of criticism from the Arab world, with Palestinian President Abbas calling it a "declaration of war" and Jordan decrying the move as terror.
Related stories:
The site was closed to all visitors on Thursday, as tensions spiraled in the wake of the attempted assassination of rightwing activist Glick in Jerusalem on Wednesday, and the subsequent killing of his suspected attacker in East Jerusalem early Thursday morning.
Temple lockdown
Police spokeswoman Luba Samri told AFP the shrine would open early Friday "for dawn prayers, after midnight" following its first closure in decades. Israel said its clampdown on the shrine was a temporary measure aimed at calming tempers.

Officials from the Islamic Waqf which administers the compound said it was the first closure since Israel seized Arab East Jerusalem during the 1967 War.

A temporary closure was ordered in September 2000, when a provocative visit by then-Israeli opposition leader Ariel Sharon touched off a Palestinian uprising.

"This dangerous Israeli escalation is a declaration of war on the Palestinian people and its sacred places and on the Arab and Islamic nation," Abbas said through his spokesman Nabil Abu Rudeina, warning it would only fuel "more tension and instability."

Jordan's Islamic affairs minister, Hayel Daoud, said it amounted to a case of Israeli "state terrorism." Under its 1994 peace treaty with Israel, Jordan has responsibility for Muslim holy sites in Jerusalem.

The US urged that the Al-Aqsa Mosque be reopened to Muslim worshippers, and called on all sides to exercise restraint amid spiraling tensions. State Department spokeswoman Jen Psaki also condemned the shooting of Glick..

A spokesman for Prime Minister Benjamin Netanyahu said the closure aimed "to prevent riots and escalation as well as to restore calm and status quo to the Holy Places."

Meanwhile, Muataz Hijazi, the alleged shooter in the assassination attempt on rightwing activist Rabbi Yehuda Glick, was laid to rest late Thursday after Israel agreed to his burial.

Hijazi was laid to rest in the Salah ad-Din cemetery in East Jerusalem late Thursday.

The police feared rightwing Jews would attempt to exact revenge on Palestinians in a "price tag" attack for the shooting, and thus only 45 family members were permitted to attend the ceremony. Before and after his funeral, Hijazi's home in Jerusalem's Abu Tor neighborhood was the scene of rioting, with security forces being pelted with stones and masked youths setting trash bins ablaze.
Playing with fire
"We are proud of anyone who wants to kill a settler," said one of his family members. "I am the first to take an M16 rifle to kill them. The war between Jews and Arabs is a religious war, so I'm not surprised Glick was shot."

Hijazi's family claim he was murdered in cold blood by Israeli police and they deny he had any role in the assassination attempt of Rabbi Glick.

Hijazi's neighbor, Ayman Shweki, said seemed to echo the claim, attributing tensions to religion: "Why do rightists enter Al-Aqsa every day? It's a Muslim mosque, no Temple Mount or anything. What kind of stories have you been telling yourselves? Don't get near Islam's holy places, it's playing with fire. We were here from before Israel's was established, this is our land."

Abu Tor is a mixed neighborhood, with Jews living on the outskirts – mostly because of the amazing view it provides of Jerusalem's Old City, and not ideological reasons. Not far from the Jewish homes, the Arab residents pelt police with stones.

Hijazi's cousin, who refused to be mentioned by name, said "everything the police do to us we will do to you," he said decisively.

"If you kill our people we will not stand by idly. If you kill our kids and close the Al-Aqsa mosque then it means you want an intifada (uprising). We (the youths of East Jerusalem) want you to go back to where you came from. Only then will there be peace in Palestine. If not – there will be no calm," he said.

In the meantime, Glick's condition improved slightly, but he remained in serious condition and on life support at the intensive care unit of a Jerusalem hospital.

Reuters and AFP contributed to this report