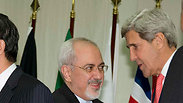 US Secretary of State John Kerry and Iran's Foreign Minister Zarif
Photo: Reuters
US Secretary of State John Kerry and Iran's foreign minister will hold nuclear talks in Oman on around November 10, the Austria Press Agency reported Friday.

The meeting between Kerry and Mohammad Javad Zarif comes ahead of a final round of talks between Iran and world powers in Vienna from around November 17, APA cited unnamed diplomatic sources as saying.

Iran and the five permanent members of the UN Security Council plus Germany (the P5+1) aim to reach a deal by November 24 on reining in Iran's nuclear program.

Such an accord would ease fears, after a decade of rising tensions, that Tehran might develop nuclear weapons under the guise of its civilian atomic program.

In return for reducing the scope of its activities and allowing closer UN inspections, Iran, which denies wanting the bomb, wants painful UN and Western sanctions lifted.

Months of intense negotiations, including between Kerry and Zarif in mid-October in Vienna, have made some progress but appear deadlocked on the key issues of uranium enrichment and the pace of any sanctions relief.

Enrichment renders uranium suitable for nuclear power generation and other peaceful uses but also, at high purities, for a nuclear bomb. Kerry said on Thursday that reaching a deal would require Iran to make "tough decisions,"

Catherine Ashton, the outgoing EU foreign policy chief who will continue to chair the nuclear talks until November 24, will also be present in Oman, APA reported.

The news agency also said that chief negotiators from the six powers - but without Iran - will meet in Vienna on November 7.

Oman was where the United States and Iran reportedly held secret talks that laid the groundwork for an interim deal struck last November.

Important towards easing fears about Iran's nuclear program is an ongoing probe by the UN atomic watchdog into suspected activities by Iran towards developing a nuclear weapon.

The head of the International Atomic Energy Agency watchdog, Yukiya Amano, said on Friday that progress in this probe has slowed in recent months and is now "limited".

"Initially Iran implemented the practical measures agreed with the agency... fairly well," Amano, who met Kerry on Thursday, told an event in Washington.

"However, since the summer of 2014 progress on implementing agreed measures has been limited," he said.

In particular Iran has still not provided information on two suspect areas, two months after an agreed August 25 deadline to do so, Amano said.