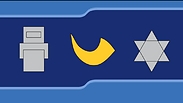 Special safety instructions
Photo: Screenshot from video by Levinson Brothers
"Gentlemen, and unfortunately, ladies," the announcement featured in a satirical in-flight safety video by Jewish-American comedy writers Stephen and Joel Levinson begins. The parody of El Al's flight safety video presents guidelines for passengers, following recent cases in which flights were delayed after ultra-orthodox Jewish men refused to take their seats next to women.
In one of the latest of such incidents, which was first published by Ynet, passengers aboard an El Al flight from New York to Israel described their trip as an "11-hour long nightmare" due to disruptions caused by Haredi travelers during the flight.
The In-Flight Safety Video El Al Should Show from Tablet Magazine on Vimeo .
According to the passengers who were on the plane, their fellow ultra-Orthodox travelers refused to sit next to women prior to the takeoff, which not only delayed the flight, but caused actual chaos to ensue on the plane.
Tablet, the Jewish online magazine that posted the video in question, mentioned the recent cases in which haredi passengers demanded that secular travelers change seats, and added that "to help the airline better articulate its policies, and to educate passengers on what they might expect on their 11-hour journey to the Holy Land, we turned to our friends the Levinson Brothers, who produced an in-flight safety video El Al could screen as passengers board at JFK airport."