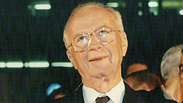 Yitzhak Rabin on the night of the assassination
Photo: Michael Kremer
Former President Shimon Peres delivered a fiery and passionate speech on Saturday night, one less politically correct, demanding peace.

"There are some here who have turned 'peace' into a derogatory term, and some who interpret the expression 'peace supporter' as a description of delusional, naive and unpatriotic people," Peres told the tens of thousands of people who flooded Rabin Square in Tel Aviv for a memorial rally marking 19 years to the assassination of Israeli premier Yitzhak Rabin.

"Those who gave up on peace - they are the delusional ones! Those who surrendered and stopped seeking peace - they are the naive ones, the ones who are not patriots," he cried out.





"I ask those who oppose the two-state solution, who see themselves as sober people, not 'naive' or 'delusional' - what is your solution? What is your vision for the Jewish people? For the Jewish state?

My question remains unanswered. For years now I have not heard an answer," Peres said.

Offering his own answer, Rabin's foreign minister said: "To be practical rather than delusional or naive, one must acknowledge and accept several basic truths that are strong, clear and eternal: Israel can have no permanent security without peace.

"Israel can have no stable and thriving economy without peace. Israel can have no healthy society, free of poverty and discrimination, without peace. Israel can have no international status and a special relationship with the US without peace. Israel has no chance to maintain its Jewish and democratic nature without peace."

While welcoming the Arab peace initiative - a change from the Arab world's position in 1967 that rejected peace, recognition and negotiation with Israel - he decried the fact it is the only one on the international table.

"Where's the Israeli peace initiative? Why isn't that on the table?"

Israel, Peres asserted, doesn't need the Palestinians to recognize it as a Jewish state. "Is the Jewish nature of Israel determined by a signature of a Palestinian leader? Of course not! The Jewish nature of Israel is up to us!"

He also asserted it was unreasonable to believe the Palestinians will change their attitude towards Israel before a peace agreement is signed.

"Throughout human history, peace accords are signed first, sometimes with gritted teeth, and only then does the gradual reconciliation begin and change occurs in hearts and minds," he said.

A peace accord was also a necessary condition to ensuring the survival of the moderate Palestinian camp which is willing to make the compromises needed to achieve peace, Peres said.

"There is no perfect peace, but an imperfect peace is preferable to a territorial conflict," Peres said. The status quo, he argued, "is dissolving the Zionist dream."

"Without recognized permanent borders, Israel will remain open for all. Forever a conflict zone."

Peres asserted that peace with the Palestinians could lead to peace with other Arab nations in the region. Israel, he said, could be a part of a united regional front in the fight against the Iranian threat and against the Islamic State.

Concluding his speech, Peres quoted from "Shir LaShalom" ("A Song For Peace"), the blood-stained lyrics of which were found in Rabin's jacket pocket after he was shot: "Don't say the day will come, / Bring the day about!"

"Don't stand aside," he said. "My friends, the choice is yours. You are responsible to your life, and those of your children and grandchildren.

"You are my friends on the journey to peace, and I believe with all of my heart, and I know: With you, peace will come!"
'Inaction and intimidation are not a policy'
Yuval Rabin, the late prime minister's son, attacked the Israeli government for its lack of vision and for ignoring the Arab peace initiative.
"Instead of daring and diplomatic initiative, again and again we are forced to hear about the Iranian threat at our doorstep and Daesh, Hamas and Hezbollah who threaten to destroy us. Since when is the state of Israel, that has one of the best armies in the world, fear for its existence?"
Addressing Prime Minister Benjamin Netanyahu, Rabin's son said: "I don't have the strength to stay silent, and that's why I'm here to tell the prime minister: Sir, intimidation is not a policy, inaction is not an agenda. Mr. prime minister, even if I did not vote for you, I respect the voter's decision that makes you a leader for all of us. This is why it is our right to demand of you - start doing and changing, this is the job you received and this is the responsibility that lies on your shoulders. True security will only be reached with peace."
Addressing Jewish residents in East Jerusalem and the West Bank, he said: "I urge our brothers the settlers - come home. We'll welcome you with open hearts. In the name of united and cooperation we will settle this country, will make uninhabited regions bloom, open up this place we all love and are committed to, which makes us all one human mass.
"This past summer was a show of unity and cohesion. Mr. prime minister, you spoke of this cohesion this week, and I call on you - take it, and use it to reaching a peace agreement. Direct it to instill in these youth hope, so they don't go seeking their future in other countries. Home is everything."
The head of the Eshkol Regional Council Haim Yalin told the audience he arrived at the rally "after two months of fighting in the south that spilled into central Israel as well."
He said that "the IDF has achieved the objectives of this operation and now it is time to win the war on the diplomatic front as well. We have a country with great potential, but for years that it hasn't been able to provide true security to its citizens and a true path for peace.
"The terror organizations continue being a real threat to our lives, and we will continue defending our citizens with our full military might whenever we are required to it, but as long as they're no diplomatic horizon we will all continue to live from one war to another and onto another one," Yalin continued, drawing a link between Rabin's assassination and Operation Protective Edge.
"The Israeli government must operate out of true commitment to unity, to narrowing the gaps and to caring for the weak. It must aspire to be a model society, a country of values that we could all be proud of. It must be a country worth fighting for, a country worthy of its sons, and not just one whose sons are worthy of it."
Yalin too addressed the prime minister, calling him to "stop being afraid."
"Stop being afraid of Iran and Daesh. Stop being afraid of elections and holding onto your chair. Leaders are measured with the courage to make difficult long-term decisions, and not in polls. You have a responsibility to the future of us all. We expect you to charge at a diplomatic accord as IDF troops charged to neutralize the tunnels."
Later, Yalin turned to Hamas leader Ismail Haniyeh with a "friendly advice."
"Even though we are enemies: Switch the rockets for words, switch the tunnels and the darkness you are giving your people with the construction of a vision, with light, with universities, with education. And think carefully - if during wars your family could get to Ichilov (hospital), think what kind of cooperation we could have if you give up on terror and offer a hand to a diplomatic accord."
Bringing back hope
Among the musicians performing at the rally were rock bands Mashina and T-Slam, hip-hop/funk band Hadag Nahash and singer Avraham Tal. The rally was hosted by actress Yael Abecassis.

The rally, named "Returning to the Square and Bringing Back Hope," was organized by "The Israeli Peace Initiative," a group promoting regional peace, along with "The Fourth of November" association. The rally's organizers said the event is meant to urge the government to promote a peace initiative.

Next week, an additional memorial rally for the slain premier will be held at Rabin Square, led by youth groups and the students' union, and would focus on the significant devastation the murder caused to the democratic process. This rally will be attended, among others, by President Reuven Rivlin.

Yitzhak Rabin was Israel's fifth prime minister, serving two terms in office, 1974-77 and 1992-95. He was assassinated during a peace rally on November 4, 1995 by right-wing Israeli radical Yigal Amir, who was opposed to Rabin's signing of the Oslo Accords.

Gilad Morag contributed to this report.