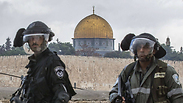 Security forces at the Temple Mount
Photo: AFP
Accompanied by heavy security. right-wing MK Moshe Feiglin went to the Temple Mount on Sunday morning, vowing to "change the reality" of a ban on Jewish prayer at the site.

Feiglin condemned shouts by Muslims at the site saying, "Whoever yells in this manner should not be surprised when a close one becomes a murderer."

He added, "the fact that there is a necessity for a security escort at an hour when Arabs are walking around here freely without any fear, says more than anything who feels like a visitor here and who feels like the owner of this site. We will change this reality with the help of God."

After days of heightened tensions and clashes in the capital, the Temple Mount compound in Jerusalem was to be open as normal on Sunday morning, with access available to both Muslim worshipers and Jewish visitors, the Jerusalem District Police announced Saturday night.

Daily clashes between Israeli security forces and Palestinians in the streets of East Jerusalem and the al-Aqsa mosque compound have been stoking fears of a new Palestinian Intifada.

Saturday was a relatively quiet day in the capital, owing mostly to the rainy weather, but some incidents were noted nevertheless. A makeshift explosive device was thrown at police forces near a mosque in Shuafat, fireworks were launched at police and border police in Wadi Joz and in the Old City, and windshields of four vehicles were shattered in Abu Tor. No one was hurt in these incidents. Near the Damascus gate, a 13-year-old Arab boy attacked a Jew. His arrest led to clashes during which a policemen was lightly wounded.

Meanwhile, Prime Minister Benjamin Netanyahu on Saturday urged lawmakers to show restraint over Jerusalem's Temple Mount, which has been at the heart of rising tension with the Palestinians in recent weeks.

In a sign of concern that the situation could escalate, Netanyahu called in a statement "on all Knesset members to calm tensions regarding the Temple Mount and show responsibility and restraint."

The Palestinians say Israel is looking to change the delicate status quo at al-Aqsa, the third-holiest site in Islam and the most holy in Judaism. Under the rules governing access to al-Aqsa, which is administered by Jordanian religious authorities, Jews are allowed into the compound but are not permitted to pray.

Netanyahu has said Israel has no intention of altering the status quo, but far-right activists and lawmakers have been pushing for Jewish worship at the site.

Police often restricts access to al-Aqsa when concerned about possible violence there, only letting in women and Muslim men over a certain age.

Shortly after Netanyahu's statement, one leader of the campaign for Jewish worship, Likud lawmaker Moshe Feiglin, said on Twitter he would be heading to the complex on Sunday.

Another advocator for Jewish prayer at the site, Yehuda Glick, was shot and seriously wounded this week by a suspected Palestinian gunman. Feiglin and some 200 supporters held a prayer rally for Glick's recovery in Jerusalem at Safra Square near Jerusalem's city hall on Saturday. The gathered crowd also called for the end of harassment of Jews on the Temple Mount.

"I don't accept anyone threatening us here in the land of Israel, saying the situation is volatile and therefore we mustn't go up," Housing Minister Uri Ariel, of the far-right Bayit Yehudi party, told Reuters at the rally.

Police tracked down the suspect in the attack on Glick and shot him dead in an exchange of gunfire on Thursday, sparking fierce clashes in the city and prompting police to shut the complex down for almost an entire day.

It was the first full closure of the compound in over a decade and Palestinian President Mahmoud Abbas said through his spokesman that it was "tantamount to a declaration of war".

On Thursday Netanyahu said Abbas had incited for violence when he said this month that "The (Jewish) settlers must be barred from entering the compound by any means."

The complex, in the walled Old City, houses the golden Dome of the Rock, from which Muslims believe Mohammed ascended to heaven. Jews revere it as the site of two destroyed Biblical Temples.

Palestinians want East Jerusalem, captured by Israel in the 1967 Six-Day War, as the capital of a state they aspire to establish in the West Bank and Gaza Strip.

Israel regards all of Jerusalem as its "indivisible and eternal" capital, a claim not recognized internationally.

Noam (Dabul) Dvir contributed to this report.