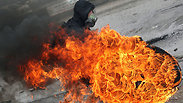 Palestinian rioter throws a wheel lit on fire at police in Jerusalem.
Photo: AFP
Israel will not make any changes to the regulations on the Temple Mount, Prime Minister Benjamin Netanyahu told his Cabinet on Sunday, after days of unrest and protests over the closure of the site, which is holy to both Jews and Muslims.
Already heightened tensions threatened to spiral out of control after the attempted assassination of right-wing activist Yehuda Glick last Wednesday and the subsequent killing of his suspected attacker a day later. The subsequent escalation of rioting in Jerusalem and ongoing demands by right-wing MKs to allow Jews to pray at the Temple Mount have also served to exacerbate the already taut situation.
"Since the days of Abraham, the Temple Mount has been the holiest site for our people and with this, the Temple Mount is also the most sensitive kilometer on earth," Netanyahu said. "Alongside our determined stance for our rights, we are determined to maintain the status quo for all the religions in order to prevent an eruption."
The prime minister repeated his calls for members of his government to show restraint on the issue.
"It is very easy to ignite a religious fire but much harder to extinguish it," he said.
Meanwhile, the Cabinet on Sunday morning approved stiffer sentences for stone-throwing, including jail time of up to 20 years.
Netanyahu announced approval of an amendment to the penal code designed to stiffen punishment for throwing stones at vehicles, inlcuding sentences of up to 20 years for throwing stones or other objects at cars.
"Israel is taking vigorous action against terrorists and those who throw stones, fire bombs and fireworks. We will also pass stronger legislation on the issue. All of this is in order to restore quiet and security throughout Jerusalem. I have ordered that massive reinforcements be brought in and that additional means be used in order to ensure law and order in Israel's capital," Netanyahu told his Cabinet.
The heated Temple Mount issue was the first item on Netanyahu's agenda Sunday morning, and he dismissed charges that Israel sought to cut off Muslims from the site.
"Radical Islamists are spreading false claims that we intend to harm the al-Aqsa mosque and use violence in an attempt to exclude Jews from going to the Temple Mount. We won't let this happen. We are committed to maintaining the status quo," he said.
"These are especially sensitive days, we should not succumb to the radicals among our enemies," the prime minister said. "I believe at this moment it is necessary is to find restraint and work together to restore calm."
Palestinian President Mahmoud Abbas, who also spoke to Kerry about the tensions in Jerusalem, welcomed Netanyahu's calls for restraint.
"Assaults and provocations by fanatics will lead to grave consequences," he said. "It will create a status of instability and tension both in Palestine and in the region and that is what we do not want to happen."
The prime minister's remarks came after the Temple Mount was reopened to Jewish visitors on Sunday morning, a move which right-wing MK Moshe Feiglin (Likud) took advantage of to promote his agenda to enable Jewish worshippers to pray at the site.
Feiglin arrived at the Temple Mount on Sunday morning, escorted by a security detail. He condemned catcalls from Muslims at the site, linking Muslim hostility to a Jewish presence on the site and the attack on Glick.
"Whoever yells in this manner should not be surprised when a close one becomes a murderer," he said.
"The fact that there is a necessity for a security escort at an hour when Arabs are walking around here freely without any fear, says more than anything who feels like a visitor here and who feels like the owner of this site. We will change this reality with the help of God."
AP and Reuters contributed to this article.