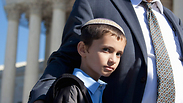 Menachem Zivotofsky - born in Jerusalem
Photo: AP
WASHINGTON - As tensions flare up in Jerusalem, the US Supreme Court will weigh in on a contentious issue which could threaten US foreign relations: The court's justices will decided whether to force the State Department to add the word "Israel" to the passports of Americans born in Jerusalem, in a case involving a 12-year-old boy.

On Monday, the nine justices will consider whether the administration of President Barack Obama must follow a law enacted by Congress that allows US citizens born in Jerusalem to have Israel listed as their birthplace on passports, instead of just "Jerusalem".

What appears to be a dry legal question is a foreign policy minefield for the US government, which has refused to enforce the law ever since it was enacted in 2002. The concern for the United States is that the law could be interpreted as an endorsement of Israel's hotly disputed sovereignty claim over Jerusalem, a holy city for Judaism, Islam and Christianity.

The case was instigated by the parents of Jerusalem-born US citizen Menachem Zivotofsky because they want his passport to state that he was born in Israel. Ari and Naomi Zivotofsky sued on behalf of their then-baby son in 2003.

The legal fight has bounced around the US court system for a decade, an odyssey that included a previous trip to the Supreme Court that led to a ruling in 2012 on a more technical procedural issue.

The legal question is whether the law is unconstitutional because it infringes on the president's exclusive right on whether to recognize a foreign nation and under what terms.

Negotiations over the status of Jerusalem have long been seen as key to any potential peace settlement. The United States has been neutral on the question ever since Israel was founded in 1948.

"The last thing you want is the United States to come in from left field and undermine the credibility of the process," said Daniel Kurtzer, who served as US ambassador to Israel from 2001 to 2005 and now teaches at Princeton University.

Israel calls Jerusalem its capital, but most countries, including the United States, do not recognize that claim and maintain their embassies in Tel Aviv. Palestinians want East Jerusalem, captured by Israel during the 1967 Six-Day
War, as capital of the state they aim to establish alongside Israel in the West Bank and Gaza Strip.
'Irreversible damage'
The State Department's position is that a loss for the US government would be perceived around the world as a reversal of American policy that could cause "irreversible damage" to the government's power to influence the peace process, according to court papers. The administration, over the objections of members of Congress, has told the court that the president alone gets to make key foreign policy decisions.

If enforced, the law sends the message that "the United States has concluded that Israel exercises sovereignty over Jerusalem," administration lawyers said in the court papers. The government currently requires that the passports of any US citizens born in Jerusalem list only the name of the city.

Even some of the Zivotofsky family's supporters agree that a ruling in their favor could be read within the Muslim world as an endorsement of Israel's claim for sovereignty over Jerusalem, although they say that would be an incorrect assumption.

"It's hard to imagine Muslim countries doing anything but object strenuously," said Marc Stern, general counsel of the American Jewish Committee, one of several US-based Jewish groups that have backed the Zivotofskys by filing friend-of-the-court briefs.

However, some think otherwise: John-Michael Kibrick, an Israeli American born in Jerusalem, told Ynet that "As long as the birthplace listed on my passport has no legal ramifications on my rights as an Israeli or as an American, the government can label it however they feel appropriate."

Kibrick says he "can't understand bringing a lawsuit on the American government over this issue. No matter what this family's intentions are, provocation will be the only outcome. If they lose, American Jews will be angry and propaganda about how bad the Obama administration treats Israel will spike. If they win, the push-back from the Arab and political-left communities could be even worse.

"The US should be promoting mutual respect and consideration. I think American Jews like myself who were born in Jerusalem should be respectful of the right of the US government to make these kinds of political decisions as long as they don't have consequences on a person's status as an American or Israeli citizen."

The American-Arab Anti-Discrimination Committee is the only pro-Palestinian group that filed a brief in support of the US government, saying the law discriminates against Americans of Palestinian heritage because it does not allow US citizens born in Jerusalem to list Palestine as their place of birth.

"The law benefits some Americans, but not others," said Abed Ayoub, the group's legal and policy director.

Other nations, including Israel, have not filed court papers on either side.

The Zivotofsky's are represented by Washington-based lawyers Nathan Lewin and his daughter, Alyza. They came up with the legal basis for the challenge and said they have worked on the case without charge since 2002.

In an interview, Alyza Lewin downplayed the impact the case could have on foreign policy issues, framing it instead as a personal tale based on a family's close connection with Israel.

At this point, Menachem Zivotofsky has lived with the case his whole life, Lewin said. "He is incredibly proud to be born in Israel," she added.

Reuters and Omer Benjakob contributed to this report