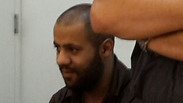 Ahmed Sharbaji in court, Monday morning
Israeli-Arab who joined Islamic State gets 22 months in prison
Ahmed Shurbaji of Umm al-Fahm sentenced to prison upon return to Israel after participating in IS military training camp; Judge: recruitment to IS 'entails a real risk that these training activities will be used by citizens for the purpose of terrorist activity.'
Ahmed Shurbaji, aged 23 from the northern Arab village Umm al-Fahm, was given a relatively light sentence of 22 months in prison by the Haifa District Court on Monday for his participation in training sessions held by the Islamic State group in Syria. Sharbaji was apprehended upon his return to Israel.

Shurbaji is the first Israeli convicted for ties to Islamic State, which has drawn foreign Muslim volunteers as it seized swathes of Syria and Iraq this year. Several Israeli Arabs have been tried for joining other Syrian insurgent groups.

The judge noted that the recruitment to the Islamic State "entails a real risk that these training activities will be used by citizens for the purpose of terrorist activity against the Israeli establishment and against citizens of Israel in a manner which substantially endangers national security,"

Shurbaji left for Turkey in January and from there he infiltrated into Syria. He joined a unit that went by the name of "Jeesh Mohammed" and later was recruited by the Islamic State.

Related stories:

The specific training Shurbaji underwent were described in his indictment: He participated in a military training camp for a week and "took part in religious classes, learned theoretical data attributes and how to use a variety of weapons including a Kalashnikov, RPG launcher, heavy machine guns and grenades, and also practiced shooting a rifle, heavy machine guns, and throwing grenades."

It was further written that, "the defendant was directed and trained in holding a rifle and the dismantling, assembling and maintenance of Kalashnikov weaponry, personally carried a Kalashnikov weapon, was directed and trained in crawling, jumping during fighting, finding refuge while fighting, shooting, conquering, physical fitness training, crawling and jumping."

"In addition, he moved around areas of Syria while in uniform and armed with a Kalashnikov rife, performed guard duty while armed, took part in two battles while firing weapons and was placed at checkpoints while carrying out military patrols to prevent the progress of establishment forces."

The indictment revealed that Shurbaji surrendered his passport to the organization. During the month of April, he contacted an Israeli security source, said he had made a mistake, and asked to return to Israel. Upon his return he was apprehended and arrested. He was convicted for forbidden military training, exiting Israel illegally, and violating the Infiltration Law.

The prosecution requested a sentence between three to four years, and listed a series of severe reasons, among them the amount of time Shurbaji stayed in Syria and the fact the he was involved in active fighting, and left his passport in Syria among other acts.

Shurbaji's defense team, lawyers Hussein and Anas Abu Haseen, asked to lighten his punishment on the grounds he regretted his actions and put his life at risk by contacting the Israeli security source and by returning to Turkey without a passport.

"The defendant confesses, admits the mistake he made, and there is no chance he will repeat his actions. The defendant thought he was traveling to help injured people, but when he understood that the situation was not as so he asked to return to Israel."

The judge, Vice President Orit Cantor, determined that the actions of the defendant cause a real threat to the security of Israel.

That being said, the judge decided that the maximum punishment should not be given – four years imprisonment – because of earlier precedents, and because the Islamic State was only classified as a terrorist organization in September.

"The strong desire of the defendant to return to Israel is evident as he put his life in danger to do so, expressing regret does not exempt him from criminal responsibility, but is worthy of consideration," the judge wrote.

"It is a reasonable assumption that the defendant's cooperation with security authorities will help the State of Israel defend itself against this organisation in various ways," the court said in its ruling, without elaborating.

Shurbaji's family members said in a comment, "Ahmed was in Syria and returned after he regretted his decision. He paid a price. We call all citizens not to make the same mistake."

Shurbaji travel to Syria with his friend Ahmed Habashi, aged 23 from Iksal, close to Nazareth, who also joined the Islamic State and was killed in a gunfire battle in Iraq.