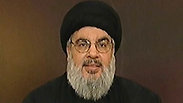 Nasrallah: Israel has understood the new equation
Israel will indeed be forced to shut its international airport in the event of another Lebanon war, Hezbollah chief Hassan Nasrallah said Tuesday.
In a television interview marking the Muslim holiday of Ashura, Nasrallah responded to comments by a top IDF officer who warned recently that should a Third Lebanon War break out, Ben-Gurion Airport and Haifa Port would be closed from the very first day.
"You will be forced to close your ports and airports. You will not find a single piece of land in all of Palestine that will not be hit by missiles from Lebanon," Nasrallah said in a televised speech marking the Muslim holiday of Ashura.
Nasrallah also said he was unworried at the prospect of another war with Israel.
"To the contrary, this exposes their anxiety," he said. "Our understanding is that this doesn't come from a position of strength, but rather one of weakness."
According to Nasrallah, "the Israelis thought that regional events, especially in Syria, would weaken the resistance and our preparedness. The Israelis collect information and base their assumptions on what's written in Arab and Lebanese newspapers."
He was apparently referring to reports that Hezbollah was in a weakened state because of its heavy losses fighting for the Assad regime in Syria.
Nasrallah's speech also referred to Hezbollah's responsibility for an explosive device on Mount Dov on the border, and said that the organization would "respond to any Israeli violation at the appropriate time." He also mentioned the detonation of an Israeli listening device found in southern Lebanon, which killed one of the Shiite terror organization's operatives, and stressed that "Israel has understood the new equation."
Unlike last year, Nasrallah chose not to physically participate in the central commemorative event in Beirut's southern suburbs. Tens of thousands were expected to attend the traditional Shiite procession.
Nasrallah spoke from his hiding place, with his speech delivered via a giant screen. Due to fears that radical Sunnis would be inspired by the Islamic State and the Al-Nusra Front and attempt to sabotage the events or even carry out terrorist attacks, this year saw unprecedented security measures, including the unusual step of closing all entrances to the Dahieh quarter from midnight until the end of the holiday.
The Hezbollah chief claimed that Israel has not attacked Lebanon since the start of the civil war in Syria because the group has not stopped watching Lebanon's border with Israel.
"The eyes watching Israel must remain open," he said. "In fact, the resistance is even more determined in light of events in Syria."
A day earlier, a closely guarded Nasrallah actually left his hiding place and was physically present for a speech at a ceremony for the eve of Ashura, at the Sayyid al-Shuhada complex in southern Beirut.
Nasrallah called on the public to attend Ashura events en masse, despite threats. He devoted his Monday speech primarily to internal developments in Lebanon, but also referred to the regional situation, clarifying that as opposed to some assertions, the conflict in the area has not been between Sunnis and Shiites, but rather their mutual struggle against American hegemony, Israel, and the militant Islamic State and Al-Nusra Front.