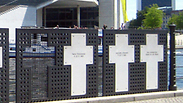 The original memorial
Photo: Beek100/Wikimedia Commons
Fourteen white crosses on the shores of the River Spree, near the Reichstag building in Berlin, were placed there to commemorate the people who died trying to cross the Berlin Wall before its fall in 1989. But since Monday the crosses have been missing.

A group of political activists called "Center for Political Beauty" claims to have removed them, saying that instead of remembering the 25th anniversary of fall of the Berlin Wall on November 9, they want to protest against what they call the "inhuman" European refugee policy. Therefore, the group says, the crosses have been taken to the outer reaches of European territory instead.




"While entire Germany is getting ready to remember the Fall of the Berlin Wall 25 years ago, there are new walls around Europe, on which at least 30,000 people have capsized until now", the activists write on their website.

The site also shows pictures of white crosses in front of barbed wire fences and African refugees posing with the crosses from Berlin. According to the activists, the pictures were taken at the Spanish enclave of Melilla, on the border with Morocco, and at border zones in Bulgaria and Greece.

The removal of the crosses is designed to be the first step of a campaign entitled "First European Fall of the Wall" – a crowd funded campaign created by the activists to raise money for a bus journey to border zones in Southeast Europe, where on November 9 they will cut holes in the border fence.

German police have launched an investigation into the theft of the missing crosses, the local media said.