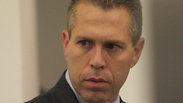 Gilad Erdan
Photo: Alex Kolomoisky
Communications Minister Gilad Erdan will replace Gideon Sa'ar in the Interior Ministry, while staying on as the ombudsman for the Israel Broadcasting Authority, it was announced Tuesday.

"Several minutes ago I met with the prime minister to inform him I was accepting his offer to be appointed interior minister, while continuing to lead a reform in public broadcasting, which I consider to be of utmost importance," Erdan wrote in a Facebook post.

"The Interior Ministry is an important and influential ministry that 'touches' Israelis' lives from the day they are born, shapes the nature of the state and even determines the character of the Shabbat. I have a lot of work ahead of me, and I promise I will study all of the issues thoroughly before formulating my policy," he continued.

"It is not easy for me to say goodbye to the Communications Ministry. I'm glad I was able to complete work on many important issues. As for those left unfinished, I've outlined the way and I'm sure my successor will complete the tasks left undone," Erdan added.

Erdan has been debating whether to accept Prime Minister Benjamin Netanyahu's proposal to replace Sa'ar, or accept the appointment of Israel's Ambassador to the UN.

Erdan has been faced with pressure from prominent Likud activists to accept the Interior Minister's position, making it clear that after many senior Likud members "abandoned" the party, Erdan was expected to stay.

There are two main candidates to be appointed minister, now that Sa'ar has resigned from the government - former coalition head Yariv Levin and MK Gila Gamliel. Likud officials believe Levin has a better chance of being appointed minister, while Gamliel has received a promise from Netanyahu that she will be appointed minister when Sa'ar leaves.

Erdan, 44, is married and a father of three. He served as an advisor to both Netanyahu and late premier Ariel Sharon. The first Knesset he served in was the 16th Knesset, and he was first made a minister in the second Netanyahu government in 2009 when he was appointed the Environmental Protection Minister and the Minister in charge of coordinating between the Cabinet and the Knesset.

Following the 2013 elections, Erdan was appointed Communications Minister as well as the Minister of Home Front Defense, a role he later resigned from. He is currently a member of the Security Cabinet.