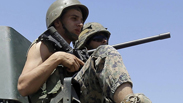 Lebanese soldier on Syria border
Photo: AFP
France and Lebanon signed on Tuesday a Saudi-funded deal worth $3 billion to provide French weapons and military equipment to the Lebanese army to help it fight jihadis encroaching from neighboring Syria.

The Lebanese army, one of the few institutions not overtaken by the sectarian divisions that plague the tiny country, has few resources to deal with the instability on its border and has been seeking to modernize its military hardware.

Saudi Arabia sees itself as the defender of Sunni Islam in the region and wants to help beef up Lebanese security forces in the face of threats from both the jihadis and Lebanon's powerful Shiite movement Hezbollah.

French, Lebanese and Saudi officials attended Tuesday's signing ceremony in the Saudi capital Riyadh.

"I welcome the signature of the contract to help the Lebanese army," French Foreign Minister Laurent Fabius said in a statement. "This agreement, financed by a Saudi grant, will contribute to strengthen the Lebanese army, which guarantees the unity and stability of Lebanon."

He gave no further details. The French defense ministry is due to outline details of the contract on Wednesday.

French Defense Minister Jean-Yves Le Drian told parliament on October 8 the deal included land, air and naval equipment.

Lebanese officials fear Islamist insurgents from the Syrian war are trying to expand their influence into Sunni Muslim areas of northern Lebanon. They see a rising threat from groups such as al-Qaeda's Nusra Front and the ultra-hardline Islamic State, which may try to open up new supply routes between Syria and Lebanon as winter unfolds.

Jihadis attacked and briefly seized the Lebanese border town of Arsal in August and since then the army has stepped up its efforts to prevent fighters from crossing into Lebanon.
Fighting terrorism
"This deal will help to ensure the army's mission to defend its territory and to fight terrorism at a time when Lebanon is threatened," Fabius said.

Lebanon, a former French colony, has officially tried to distance itself from Syria's civil war, but its Hezbollah movement has sent fighters to support Syrian President Bashar al-Assad, a member of the Shiite-derived Alawite minority.

Assad and Hezbollah are both backed by Shiite regional heavyweight Iran.

Lebanon, which is still rebuilding after its own 15-year civil war, has also seen clashes between gunmen loyal to opposing sides in the Syrian conflict, as well as militant strikes on the army and cross-border attacks by Syrian rebels.

Saudi Arabia, which has already provided $1 billion in military aid to the Lebanese army, has recently taken part in US-led air strikes against Islamic State militants in Syria.

French and Saudi relations have improved sharply in the last two years.

The two countries hold similar views on the Syria conflict, where both insist Assad must step down, and Paris' tough line in nuclear talks between Iran – Riyadh's arch regional rival – and major powers have helped it appear as the main defender of Saudi interests at the negotiating table.