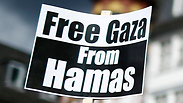 Israel slammed for Gaza human rights vioaltions
Archive photo: Reuters
A leading human rights group has accused Israel of committing war crimes during this summer's war in Gaza.
Amnesty International says Israel displayed "callous indifference" in attacks on family homes in the densely populated coastal strip that in some cases amounted to war crimes.
The criticism came in a report released Wednesday. The 50-day war killed more than 2,100 Palestinians, most of them civilians, and 72 people on the Israeli side, all but six soldiers.
Amnesty said in a report released Wednesday that "Israeli forces killed scores of Palestinian civilians in attacks targeting houses full of families, which in some cases have amounted to war crimes."
Israel's Gaza operation came after increased rocket attacks by Gaza's Islamic militant Hamas rulers. Israel also arrested scores of Hamas activists in the West Bank, following the abduction and murder of three Israel teens by Hamas militants.
Israel's foreign ministry rejected the report's findings, saying Amnesty "ignores documented war crimes perpetrated by Hamas."
"The report does not mention the word terror in relation to Hamas or other armed Palestinian groups, nor mentions tunnels built by Hamas to infiltrate Israel and perpetrate terror attacks," the ministry said.
"Israeli forces have brazenly flouted the laws of war by carrying out a series of attacks on civilian homes, displaying callous indifference to the carnage caused," said Philip Luther, Director of Amnesty's Middle East and North Africa program.
Israel says the military was as careful as possible to avoid civilian casualties citing its system of providing warning to civilians that strikes on their buildings were coming when possible. It argues that the heavy civilian death toll is Hamas' fault, accusing the Islamic militant group of launching rockets - and drawing retaliation - from school yards, residential areas and mosques.
"The report exposes a pattern of attacks on civilian homes by Israeli forces which have shown a shocking disregard for the lives of Palestinian civilians, who were given no warning and had no chance to flee," Luther said.
Israel has long been at odds with some human rights groups, which it claims are baised against the Jewish state. Just last week, the UN Human Rights Committee, chaired by British expert Sir Nigel Rodley, issued its conclusions and recommendations after examining Israel's compliance with an international treaty on civil and political rights.
Israel's latest land and aerial attacks on the Hamas-ruled Gaza Strip in July-August caused a "disproportionate number of casualties among civilians, including children", the panel said.
"(Israel) should ensure that all human rights violations committed during its military operations in the Gaza Strip in 2008-2009, 2012 and 2014 are thoroughly, effectively, independently and impartially investigated, that perpetrators, including, in particular, persons in positions of command are prosecuted and sanctioned," the committee of 18 experts said.
Israel says the IDF regularly investigates accusations of wrong-doing levelled against its troops. It also accuses Hamas of committing repeated war crimes. However, there was no immediate comment by Israel on the UN panel's 10-page findings, submitted to the government hours before.
The UN experts reiterated that Israel's obligations to uphold the International Covenant on Civil and Political Rights also applied to the West Bank and Gaza Strip, in line with a ruling by the International Court of Justice.
Israel disagrees and in its written report to the panel did not respond to its questions on the Palestinian territories.
The UN panel said settlement construction had "more than doubled" since 2010 and said this had to stop.
Successive Israeli governments have said major settlement blocs, deemed illegal under international law, will remain part of Israel in any negotiated deal with the Palestinians and have shrugged off repeated, widespread criticism of their expansion