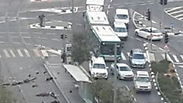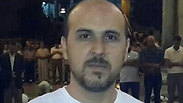 Terrorists behind attack - Ibrahim al-Akari
A van rammed into a group of pedestrians waiting for the Light Rail in Jerusalem on Wednesday, killing one person and wounding a number of others. The perpetrator of the attack - the second of its kind in as many weeks - was identified as a Hamas operative from East Jerusalem.
The terrorist hit two groups of people near the light rail station on Shimon Hatsadik Street in the capital, killing a Border Policeman and leaving two others with serious wounds, two in moderate condition and one with light wounds.
He then got out of his vehicle and began attacking other cars with a metal bar, at which point he was shot dead by Border Police.
PLEASE NOTE: VIDEO OF ATTACK CONTAINS GRAPHIC FOOTAGE
Hamas took responsibility for the attack, with spokesman Mushir al-Masri praising the terrorist. He called the attack an act of revenge "for al-Aqsa and for the blood of those who guard Al-Aqsa."
Hamas official Fawzi Barhoum also lauded the attack and called for more violence. "We praise this heroic operation," he said, adding that "We call for more such ... operations."
Scene of terror attack (צילום: foxy)
The station is the flashpoint Sheikh Jarrah neighborhood in East Jerusalem. Jewish settlers recently moved into a number of houses in the area, heightening tensions in the already volatile capital.
Ibrahim al-Akari, the terrorist behind the attack was identified by the police as a Hamas operative from the East Jerusalem neighborhood of Shuafat, and his brother his rumored to be a Palestinian released as part of the prisoner exchange deal that saw Gilad Shalit go free.
Meanwhile, Jerusalem police has decided to coordinate with the Light Rail's managing firm, CityPass, to place concrete barriers near stations, in order to prevent further attempts at vehicular rampage. The first barriers will be placed on the French Hill by Wednesday evening.
District Commander Maj. Gen. Moshe Adri stressed that Jerusalem Police, with the assistance of Border Patrol forces and national reinforcements, will continue to deploy – on high alert – across the city, with a focus on its eastern section and other flashpoints.


The top local police official directed his commanders to continue to liaison with local leaders in east Jerusalem neighborhoods and called on the general public to show restraint and responsibility.
The attack on Wednesday was the second such incident in two weeks in the holy city, the scene of daily Palestinian protests amid tensions over a sacred compound Muslims revere as Noble Sanctuary and Jews as Temple Mount.
Police units at scene of attack in Jerusalem. Injured taken to hospital. pic.twitter.com/XaYVGPhppH

— Micky Rosenfeld (@MickyRosenfeld) November 5, 2014
On Oct. 22, three-month-old Haya Ziesl Baron and Ecuadorian Karen Mosquera (22) were killed when a Palestinian man named as Abed a-Rahman a-Shaludi plowed his car into a crowd of people waiting at the Ammunition Hill station of Jerusalem's Light Rail.
The driver, a resident of the village of Silwad with a record of security related offenses, attempted to flee the scene on foot, but was shot by police. He sustained chest wounds and succumbed to his wounds late Wednesday evening after being taken to a Jerusalem hospital in serious condition.
Tensions in the capital further escalated last week, after Rabbi Yehuda Glick, a prominent right-wing activist, was shot at point blank range outside the Menachem Begin Heritage Center in Jerusalem on Wednesday night.
Glick, 50, was shot in his upper body by a motorcyclist during an annual event organized by the Temple Mount and Eretz Yisrael Faithful Movement.
The event, "Israel Returns to the Temple Mount," was attended by MKs and notable right-wing activists, among them Deputy Minister Eli Ben Dahan, MK Moshe Feiglin, MK Miri Regev and Hagai Ben Artzi - Prime Minister Benjamin Netanyahu's brother-in-law.
The flashpoint al-Aqsa mosque and adjacent neighborhoods have seen months of violence, with the mosque compound a rallying point for Palestinian resistance to perceived Jewish attempts to take control of it.
On Wednesday morning, the Temple Mount compound was closed shortly after Palestinians clashed with security forces, throwing rocks and launching fireworks, as a large group of right-wing activists waited at the entrance to the holy site. One Palestinian was wounded in the clashes.
The site was reopened shortly after, highlighting its volatile nature, as tensions between Jews, Arabs and security forces rise.
Elior Levy and Reuters contributed to this report