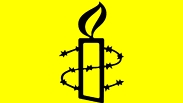 amnesty international logo
Image: Amnesty International
The campaigns manager for Amnesty International UK, Kristyan Benedict, published a Tweet on Wednesday comparing Israel to the Islamic State, using the contentious hashtag #JSIL.
Israeli regimes response to our Gaza report: Amnesty is "a propaganda tool for Hamas & other terror groups" (#JSIL?) http://t.co/gqwN9O2JrK

— kristyan benedict (@KreaseChan) November 5, 2014
The hashtag has been used by extreme anti-Israel groups to draw a parallel between Israel and the Islamist organization infamous for beheading its captives, including several Western hostages.

Benedict was responding to Israel's criticism of a newly released Amnesty report, which accuses Israel of committing war crimes during the summer's conflict with Hamas in Gaza. The report found that Israel had displayed "callous indifference" in attacks on family homes in the densely populated area, which in some cases amounted to war crimes.

Israel rejected the report's findings, saying Amnesty "ignores documented war crimes perpetrated by Hamas."

In response to Benedict's Tweet, the Israeli embassy in London on Wednesday accused the Amnesty official of ignoring real terrorist attacks and of using anti-Semitic tropes.

"Amnesty's campaigns manager has unfortunately compromised the integrity of his organization, by choosing to use the #JSIL hashtag, used by the most extreme activists to compare Israel with the ISIS terror group," said the statement by the embassy.

"It's ironic that for all of Amnesty's work on Syria and Iraq, its own campaigns manager can't see Hamas terrorism for what it is, and instead chooses to use an ugly, hateful term with anti-Jewish connotations."

This is not the first time that Benedict has come under criticism for his comments about Israel. In November 2012, he was censured by Amnesty for a Tweet in which he implied that British Jewish MPs were connected to Israeli actions in Gaza.

"Louise Ellman, Robert Halfon and Luciana Berger walk into a bar... each orders a round of B52s #Gaza." Benedict wrote in a Tweet that coincided with Israel's Operation Pillar of Defense against Hamas in Gaza.

An internal Amnesty disciplinary procedure at the time found that while the Tweet was "inappropriate and offensive", it was not anti-Semitic.

According to reports, Benedict said at the time that he thought the Tweet was "lighthearted" and "a giggle", and offered "apols to those who booed".