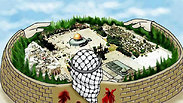 ציור של איברהים אל-עכארי פעיל חמאס ממחנה הפליטים שועפאט מחבל ירושלים פיגוע דריסה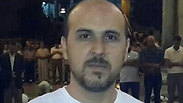 איברהים אל-עכארי פעיל חמאס ממחנה הפליטים שועפאט מחבל ירושלים פיגוע דריסה
Ibrahim al-Akari, the suspected driver in Wednesday's deadly terror attack which saw one Israeli killed and at least 14 wounded, is a known Hamas operative, and his brother was serving a life sentence for murdering an Israeli police officer until he was freed in the Shalit prisoner exchange deal. Hamas has taken responsibility for the attack.
Akari rammed his van into a group of Border Patrol forces and then continued to plow into a group of pedestrians, only to continue his attack on foot, attempting to hit pedestrians with a metal rod. He was then shot and killed by the police.
Akari is said to be a known Hamas operative from Shuafat, a flashpoint East Jerusalem neighborhood which has been scene to numerous clashes between Palestinians and security forces.
צילום: אלירן טרבלסי
Hamas spokesman Mushir al-Masri on Wednesday praised the terrorist who carried out the attack in Jerusalem, saying that that it was an act of revenge "for al-Aqsa and for the blood of those who guard Al-Aqsa."
Hamas official Fawzi Barhoum also lauded the attack and called for more violence. "We praise this heroic operation," he said, adding that "We call for more such ... operations."
Akari recently posted a number of posts on his Facebook account praising the terrorist that shot Yehuda Glick and slammed Israel for recent events on the Temple Mount. He even shared the following image:
He is the brother of Musa Akari, who was sentenced to three consecutive life sentences for his role in the murder of Israeli police officer Nissim Toledano in 1992. He was released as part of the prisoner exchange deal that saw Gilad Shalit go free from Hamas captivity after five years, and was deported to Turkey.
Toledano was kidnapped on December 13, 1992 on his way to the Border Control headquarters, and ransom demands were made some two hours later. Toledano's body was then found near Kfar Adomim and a massive wave of arrests followed.
Toledano's daughter wrote that "I am in shock, I just learned that the man behind today's terror attack is the brother of the terrorist that killed my dad. 21 years have passed, but nothing changes. When we free terrorists with blood on their hands, we're just shooting ourselves in the foot," Sapir Halutz wrote.
Tensions in Jerusalem
On Oct. 22, three-month-old Haya Ziesl Baron and Ecuadorian Karen Mosquera (22) were killed when a Palestinian man named as Abed a-Rahman a-Shaludi plowed his car into a crowd of people waiting at the Ammunition Hill station of Jerusalem's Light Rail.
The driver, a resident of the village of Silwad with a record of security related offenses, attempted to flee the scene on foot, but was shot by police. He sustained chest wounds and succumbed to his wounds late Wednesday evening after being taken to a Jerusalem hospital in serious condition.
Tensions in the capital further escalated last week, after Rabbi Yehuda Glick, a prominent right-wing activist, was shot at point blank range outside the Menachem Begin Heritage Center in Jerusalem on Wednesday night.
Glick, 50, was shot in his upper body by a motorcyclist during an annual event organized by the Temple Mount and Eretz Yisrael Faithful Movement.
The event, "Israel Returns to the Temple Mount," was attended by MKs and notable right-wing activists, among them Deputy Minister Eli Ben Dahan, MK Moshe Feiglin, MK Miri Regev and Hagai Ben Artzi - Prime Minister Benjamin Netanyahu's brother-in-law.