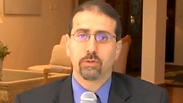 Ambassador Shapiro
Photo: Amir Levy, Nitzan Dror
US Ambassador to Israel Dan Shapiro condemned the terrorist attack in Jerusalem and expressed his condolences on his own behalf and on behalf of the US in an interview at the Ynet studio on Wednesday.

"I want to strongly condemn today's terrorist attack in Jerusalem in which one person was murdered and several others were wounded," Shapiro said.
US Ambassador to Israel Dan Shapiro condemns attack (צילום: עופר מאיר, יוגב אטיאס, אבי חי)
The US ambassador added: "I offer condolences on my own behalf, on behalf of the government to the family of the man who was killed and my wishes for recovery for the wounded."
Adressing the need to prevent tensions from further escalating in the capital, Shapiro said: "It's a very tense time in Jerusalem, especially around the holy sites. We think this is a time when everyone, and we're calling on to act with restraint, to lower the tensions, not to engage in provocations, either word or deed, and to make very clear that violence is never acceptable.
"That's the leadership that's needed right now to prevent a further deterioration of the situation in Jerusalem, and we're working with all sides to try to achieve that."
The American ambassador also spoke to Ynet in Hebrew, commenting on the possibility of renewed negotiations between Israel and the Palestinians. "Both President Obama and Secretary of State Kerry still believe that the main interest of Israel, the Palestinians and the US is to reach a situation of two states for two peoples. Obviously, there is disappointment due to the failed negotiations, but new efforts will be made – I don't know when or how."
Shapiro also commented on the Democratic midterm losses, clarifying that Israel would still have strong support from the US in preventing Iran from acquiring nuclear weapons and in the battle against the Islamic State.
"I don't see a major change or any significant difference in our policy on Israel in light of the election results, and that's a good thing. We have very strong close relationships and very close security cooperation, that's continued throughout the six year of president Obama's administration.
"Just last week, I was in Washington for National Security Adviser Yossi Cohen's visit with his delegation, for a very important positive and complex meeting with national security adviser Rice and her team on Iran, Syria Daash (Islamic State), all the challenges that we face together in the region, that's the kind of security cooperation that has characterized our relationship for the last 6 years and I expect very much that will continue in the last two years of President Obama's term," the US ambassador added.