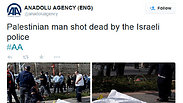 Officials at the Israeli foreign ministry expressed their fury Wednesday night over a report by the Turkish news agency Anadolu on the terror attack in Jerusalem earlier in the day.

The English-language Twitter account of the news agency posted photos of the terrorist, killed by Israeli security forces, captioned "Palestinian man shot dead by the Israeli police."

The Israeli foreign ministry reached out to the Turkish agency and insisted official Israeli spokespersons be allowed to respond to the distorted report.

Foreign ministry officials said in response: "This was an official tweet of the Turkish news agency, in which the despicable killer is portrayed as a victim of the Israeli police. The aim of the false tweet is to incite and fan the flames of hatred against Israel."

They added that a "journalist which knowingly disseminates false information of this kind is a transgression of his position and is effectively supporting terror."

The Turkish news agency responded that it "provides reliable news without bias."

Border Patrol officer Jaddan Assad from Beit Jann was killed in Wednesday's terror attack, with two others gravely wounded and ten more suffering from light-to-moderate injuries.

Ibrahim al-Akari, the terrorist, rammed his van into a group of Border Patrol forces and then plowed into a group of pedestrians, only to continue his attack on foot, attempting to hit pedestrians with a metal rod. He was then shot and killed by the police.