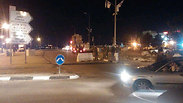 Scene of terror attack
Photo: Har Hevron Spokesperson
A Palestinian driving a large commercial vehicle rammed into three IDF soldiers standing near a pillbox by al-Arroub in the West Bank on Wednesday night.

The three soldiers were wounded in the attack near a Palestinian refugee camp close to the Gush Etzion Junction, one suffering moderate-to-severe injuries and the other two moderately wounded. The three, who were taken to the Hadassah Medical Center in Jerusalem's Ein Kerem, underwent operations overnight.

The vehicle escaped towards Hebron, and security forces were conducting searches of the area and placing barricades to catch the suspect. The vehicle was later found abandoned in al-Arroub with damage to its hood.

The wounded soldiers were from a battalion deployed to Gush Etzion. The troops were securing Highway 60 that is adjacent to the al-Arroub refugee camp, where stones and Molotov cocktails are thrown at Israeli vehicles every day.



"When we got to the scene we saw three wounded laying in a ditch on the side of the road, fully conscious," Magen David Adom paramedic Eyal Zahavi said. "One of them was suffering from chest wounds and injuries to his limbs and was in a serious condition. The other two were moderately hurt and suffering from wounds to the upper and lower limbs."

Earlier Wednesday, Ibrahimal-Akari, a Hamas member from Shuafat, plowed his van into two separate crowds of Israelis, killing a Border Patrol officer and wounding 12 others.

On Wednesday evening, Prime Minister Benjamin Netanyahu called in the defense minister, internal security minister, chief of police, and other officials for a consultation in the wake of the terror attack in Jerusalem.

Jerusalem police also decided to coordinate with the Jerusalem Light Rail's managing firm, CityPass, to place concrete barriers near stations, in order to prevent further attempts at vehicular rampage. The first barriers were placed in French Hill stations in the late evening.

Noam (Dabul) Dvir contributed to this report.