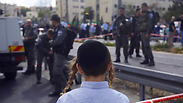 Scene of terror attack
Photo: AP.
An Israeli teen injured in Wednesday's vehicular terror attack in Jerusalem succumbed to his wounds Friday morning, and will be laid to rest at the Har HaMenuchot Cemetery at 11am in the Givat Shaul neighborhood of Jerusalem.
17-year-old yeshiva student Shalom Baadani from Jerusalem, the grandson of a senior Shas religious figure, lay in critical condition in the Hadassah Medical Center in Jerusalem's Ein Kerem since Wednesday with his identity unknown.
Baadani arrived at Haddasah after being wounded in the vehicular terror attack on Wednesday afternoon. Rescue personnel used a cellphone found at the scene of the attack to identify the patient, comparing images on the phone with the victim. Police then found his parents, who were summoned to the hospital and confirmed his identity.
His death brings the death toll of the terror attack to two - or three, if you include the attack's perpetrator Ibrahim Al-Akari, 38, who was killed while still rampaging in Jerusalem by an officer and four soldiers.
Al-Akari, a Palestinian from East Jerusalem, rammed his car into pedestrians near one of Jerusalem's Light Rail stations. Hamas claimed responsibility for the attack, which saw Akari plow down a group of Border Gaurd police officers, killing Chief inspector Jadan Assad, a Druze officer from Beit Jann, and then continue to the station, hitting additional pedestrians, only to continue his attack on foot with a metal rod.
Apparently, Baadani was riding a bicycle when he was hit by the terrorist. His parents never worried, because they knew he was supposed to return home late at night.
Baadani is the grandson of a member of the Shas Party's Council of Torah Sages, Rabbi Shimon Baadani. Among the hospital visitors was MK Eli Yishai.
Violence continues
Nearly daily stone-throwing protests have erupted in East Jerusalem neighborhoods, and at a flashpoint holy site in Jerusalem housing Islam's third-holiest site, and which Jews revere as the place where biblical Jewish temples once stood.
Israeli police deployed extra forces on Friday to try and prevent further violence, also limiting access to worshippers by permitting only Muslim men older than 35 to enter the compound of the al-Aqsa mosque.
Palestinians accuse Israel of trying to change the delicate status quo at the site, citing visits by right-wing Israelis seeking prayer rights there.
Reuters and Kobi Nachshoni contributed tp this report