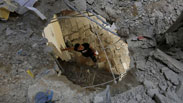 Damage in Jabaliya refugee camp
Photo: AFP.
A 'Color Red' siren sounded Friday morning in Israel's Gaza-border communities, indicating an incoming rocket from Gaza. Shortly thereafter, it became clear that a rocket had not exploded in Israeli territory, but rather fell in Gaza. The incident was believed to have been a failed launch attempt that landed inside the Strip.
Meanwhile, on Thursday night a series of nearly simultaneous explosions occurred in Hamas-controlled Gaza, targeting officials from Palestinian President Mahmoud Abbas' Fatah party.
Related stories:
Letters claiming to be from a Gaza offshoot of the Islamic State group, warned Fatah leaders to stay in their homes until November 15. There were no casualties and Fatah and Hamas consider the letters to be forgeries.
An official from Palestinian President Abbas's movement reported that his and colleagues' homes were damaged in series of nearly simultaneous explosions in Hamas-controlled Gaza on Thursday night. There were no casualties.
No organization has claimed responsibility for the bombs, but the incident occurred amid increased tension between Fatah and Hamas, despite attempts at reconciliation. Fatah sources blamed Hamas for the incident, while Hamas says it's investigating.
An Associated Press report emphasized that there was no sign that Israel was involved in the bombings, a claim supported by an IDF source.
Fayez Abu Aita, a spokesperson for Fatah in the Gaza Strip, said that his car was completely destroyed outside his home in the Jabaliia refugee camp, and that two other officials' homes and cars in the city were also damaged.
In addition, a device exploded in one of the Strip's central squares, where a ceremony marking the anniversary Yasser Arafat's death was scheduled to take place.
Senior Fatah official Abdallah Abu Samhadana said the Nov. 15 commemoration would go ahead despite the explosions, one of which targeted the wooden stage where the event is to be held.
"No one will deter us from holding the event, regardless of what explosions and terror they commit," Samhadana said in a statement carried on the official Palestinian news agency, WAFA.
Hamas condemned the explosions as a "criminal" act and ordered those who carried them out to be brought to justice.
Hamas and Fatah agreed in April to form a "reconciliation" government, an effort to overcome deep political rifts that date back to 2007, when Hamas seized power in Gaza after a weeks-long civil war with Fatah.
Fatah officials had been preparing to pay tribute to the party's founder, including the first commemoration in the Gaza Strip since 2007. The last time such an event took place, shortly after Hamas took over the Strip, confrontations erupted in which dozens were wounded. This year, Hamas once more expressed their opposition to the event.
After Thursday night's bombings, warnings addressed to Fatah officials and claiming to be from a Gaza offshoot of the Islamic State group were found near the damaged homes, calling for the officials not to leave their homes until November 15.
Fatah regarded these as forgeries possibly made by Hamas as an effort to thwart the rally. However, AP reported that Hamas had announced an investigation into the incident.
About a month before the episode, ministers from the Palestinian unity government, among them Prime Minister Rami Hamdallah, arrived in Gaza Strip to hold its meeting – the first conference of its kind in seven years.
Hamdallah then stated Abu Mazen's instructions for members of the government "were clear, and according to them we must rehabilitate the Gaza Strip and make it better than it was before". He emphasized that "we left the rift behind, and our goal is to restore normal life in Gaza and unity with the West Bank".
Ilana Curiel, Elior Levy and AP contributed to this report