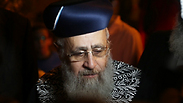 Chief Rabbi Yitzhak Yosef
Photo: Motti Kimchi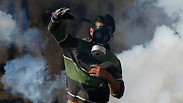 Riots in Shuafat
Photo: Reuters
Riots began in East Jerusalem as Chief Rabbi Yitzhak Yosef urged Israelis to stop attempting to enter the flashpoint Temple Mount, claiming that doing so was a religious offense. He made the comments at the funeral for 17-year-old yeshiva student Shalom Baadani who died Friday morning from wounds sustained during Wednesday's vehicular terror attack in Jerusalem.
"We need to stop this, only then will the people of Israel's blood not be spilt" the rabbi said, insinuating that those Jews repeatedly attempting to enter the holy shrine were complicit in the boy's death.
He stressed that going to the Temple Mount was a religious offensive punishable by death, adding that "it's inconceivable that b-rate rabbis will argue with the Israelis most prominent and prestigious rabbis."
Baadani, the grandson of a senior Shas religious figure, lay in critical condition in the Hadassah Medical Center in Jerusalem's Ein Kerem since Wednesday with his identity unknown, but died only Firday morning, being laid to rest hours afterwards at the Har HaMenuchot Cemetery in Jerusalem's Givat Shaul neighborhood.
The funeral was attended by senior religious officials, from Israel's Rabbinate, Shas and other Haredi parties, however government representatives were missing from the ceremony.
Riots begin
At the end of symbolic funeral held for the terrorist behind Wednesday's attack, scores of Palestinians began to riot in East Jerusalem's Shuafat area.
Thousands attended the mock-funeral march and burned tires and pelted police forces with stones and fireworks, while forces fired stun grenades in an attempt to quell the riot.
Riots were expected in Jerusalem on Friday, as Muslims gather to pray in a city racked by tragic events in recent weeks. Tension has steadily risen recently in the city, as violent clashes between Palestinians and police have been answered with right-wing protests.
Israel has deployed more than 1,300 police to deal with possible violence as Muslim worshippers flock to a hotly contested holy site in Jerusalem for weekly prayers.
Police spokeswoman Luba Samri says the officers were deployed Friday "to maintain law and order in the area." At one access road leading to Al-Aqsa, some 500 young Palestinians knelt in prayer in front of dozens of black-garbed Israeli riot police.
Daily stone-throwing protests have erupted in Arab-majority neighborhoods in East Jerusalem, following another vehicular attack in Jerusalem which killed two, including a Druze Border Patrol officer.
Riots in Shuafat, east Jerusalem (צילום: מוחמד שינאווי, רויטרס)
Prime Minister Benjamin Netanyahu blamed Palestinian President Abu Mazen for inciting such attacks and that same day, Jordan recalled its ambassador to Israel, citing Israeli "violations" in Jerusalem, exposing a rift between the two countries, which signed a peace treaty in 1994.
The current round of tension was ratcheted up on October 22, when a Palestinian drove into a crowd at a light rail station, killing a 3-month-old baby and wounding seven others. A week after that, prominent right-wing activist Rabbi Yehuda Glick was shot and wounded in an assassination attempt.
The government responded by closing the city's al-Aqsa Mosque, infuriating many Palestinians. It was the first closure of the contested site since 2000, when a visit by then-opposition leader Ariel Sharon is widely believed to have helped spark the Second Intifada. Israeli authorities opened the site the next day, but only in a limited capacity.
The mosque is located on the same site as the Dome of the Rock, an important shrine for Muslims, and the area is known to believers as the Noble Sanctuary – the third holiest site in all of Islam.
The site is also holy to Jews as the former location of the two destroyed biblical temples, and is where the third temple will be built according to tradition. The area has long been a major powder-keg as conflict has frequently erupted regarding ownership and access. Jews are permitted to visit, but not to pray.
The controversial site is located in Jerusalem's Old City, which was captured by Jordan in the 1948 Arab-Israeli War. Israeli forces conquered the city in 1967's Six-Day War. Israel considers all of Jerusalem to be its national capital, while Palestinians claim that rightful ownership of all East Jerusalem – the location of the Old City – is theirs.
Elior Levy, Roi Kais, Noam (Dabul) Dvir, AP and Reuters contributed to this report