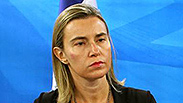 European Union Foreign Representative Federica Mogherini
Photo: Amit Shabi
Prime Minister Benjamin Netanyahu met Friday with European Union Foreign Representative Federica Mogherini in his Jerusalem office and the two discussed recent events as well as regional politics. She also met with Foreign Minister Avigdor Lieberman.

"We see that there might be a political will to resume the talks and to especially make sure that these talks bring results," Mogherini said Friday at a joint press conference with Lieberman.



She slammed recent terror attacks as well as Israel's ongoing settlement construction, but said the EU remains committed to peace and Israel's security, which she directly linked: "Israel's security and safety will never be guaranteed unless there is a regional framework that fully allows that. The EU is and will remain ready to work in this direction with all partners of the region."

On Jerusalem, Netanyahu told Mogherini that "It is our capital, and as such it is not a settlement. The neighborhoods in which Jews live and in which we are building have existed for almost fifty years, under all Israeli governments. Everyone knows that in any peace settlement, they will remain part of Israel."

On the issue of settlements, Netanyahu said he reject the "outlandish claim that the root of the ongoing conflict is this or that settlement. The issue is not land, but rather our very existence and the refusal to recognize Israel with any borders."
Gaza visit hit by infighting
A Palestinian source in Ramallah told Ynet that Palestinian Prime Minister Rami Hamdallah was scheduled to arrive in Gaza on Saturday to escort Mogherini, but canceled his visit following the bombings Thursday night of Fatah officials' homes.

Early on Friday, at least 10 explosions hit houses and cars belonging to members of the Fatah movement of PA President Mahmoud Abbas in Gaza, an AFP correspondent and witnesses said.

There was no immediate claim of responsibility, but the explosions occurred at a time of rising tensions with the rival Hamas movement.

Fayez Abu Itta, a Fatah leader in Gaza's Jabaliya refugee camp, said no one was hurt in the near-simultaneous attacks. He said his car was destroyed and the homes and cars of two other Fatah officials in Gaza City were also damaged.