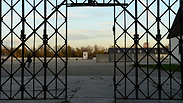 The entrance to Dachau
Photo: AFP
In early November, thieves stole the infamous "Arbeit macht frei" (work sets you free) sign from the entrance to the former Nazi concentration camp Dachau, near Munich. Ynet talked to Karl Freller, the head of the Bavarian Memorial Foundation in charge of the memorial sites at Dachau and Flossenbuerg concentration camps, about the efforts to find the sign.
Are there any leads yet about the stolen sign?
Not that I know of. But the Bavarian secretary of the interior, (Joachim) Hermann, assured me that the police and the secret service are following every lead in order to solve this case as quickly as possible. I hope that the intense search will lead us to the perpetrators and the missing sign very soon.
Apparently the cast iron door with the sign was stolen some time after midnight, after the guard had done his round – without leaving any significant trace. Aren't there security cameras in order to prevent such incidents?
Our security policy is subject to approval from the police and the secret service at all times. There is a fence around the compound, which the perpetrators broke through. And we have guards doing rounds. But in agreement with all other memorial places in Germany, we consider it difficult to install security cameras at a former concentration camp. Dachau was a place of surveillance during the Nazi regime, with watch towers and all kinds of other perfidious measures. We most certainly don't want to repeat this and make a former concentration camp look like a maximum security prison again. In our perception, this is a very sensitive issue.
But this was not the first incident of that kind. When the "Arbeit macht frei" sign was stolen in Auschwitz in 2009, did you not rethink your security policy?
Freller: No, it seemed to be coherent to us. Again, in our perception is that a place of memorial such as this should not be under surveillance at all times. Dachau is a place where people pause in prayer or to weep. There are also the ashes of people who died during their detainment.
Similar to a graveyard, we want the compound to be open to the public. There is no entrance fee and nor cashier. There are also different ways to enter the site as we most certainly don't want to force former inmates to enter through this gate again. We are well aware that this is a compromise between our aim to make the place as less hostile as possible to our visitors and the need for security. I believe it will never be entirely possible to prevent incidents like the theft of the sign.
You mentioned "perpetrators" – in the plural. You assume that there was more than one person involved?
The door is built out of cast iron. I am pretty sure that one person alone was not able to lever it out of the gate and carry it away.
This theft does not seem like an innocent prank. Whom do you suspect?
I fear that this was a very well concerted act. To me it seems very likely that this crime was committed by people who deny the Holocaust and want to destroy its evidence.
When the right wing terror organization "Nationalist Underground" was exposed in November 2011, my wife and I found ourselves on one of their target lists. I hope that the thieves will not just put the sign on their living room wall, but maybe they are stupid enough to brag about their haul somewhere online or on social media. If this happens we might have a chance of catching them. But I don't want to rule out anything. It is also possible that the sign was stolen by some maniacs. Unfortunately we don't know yet. But one thing is for sure - this theft is the biggest incident we know of since the establishment of the memorial site in 1965.
Does that mean minor items have been removed in the past?
Unfortunately, vandalism is a common problem. Like other memorial sites and museums all over the world, every once in a while there are items missing, for example index cards the Nazis created for the inmates. Luckily they were only copies. Also here we have to decide whether or not we want to put every exhibit we have behind thick glass. In the past we decided that we do not want the memorial site to be a hostile place.
Speaking of copies, the stolen door was a replica, is that right?
We did some research and it is true: Even though the gate itself is the original, the inscription is a replica. Unfortunately we can't determine the exact date of when the inscription was removed, as we just have undated photographs in order to distinguish the replica from the original. We also don't know why it was removed and by who. We just assume that it had been cut out sometime after the liberation of the concentration camp.
So theoretically speaking the original sign might still exist?
That is speculation.
What will happen with the missing door should it be found?
We will put it back at its place of course. In addition, I am initiating a round table discussion to consider improvements in our security policy. The last time we changed it was some 10-12 years ago. Maybe there are some technical methods now that make camera surveillance, at least at night, less obvious and frightening.