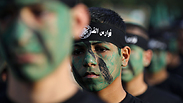 Hamas youths in Gaza camp
Photo: AFP
Hamas announced the creation of a new fighting force on Friday to be prepared for a new confrontation with Israel. A senior official with the Izz a-Din al-Qassam Brigades said that the "People's Army" would include 2,500 soldiers.

At a graduation ceremony for recruits in the Jabaliya refugee camp in northern Gaza, Mohammed Abu Askar claimed the new fighters were to be the vanguard "for the liberation of the al-Aqsa mosque and of Palestine."

Abu Askar said the new "People's Army" was established to prepare for any possible military confrontation with Israel and proclaimed that any Palestinian over the age of 20 was free to join the new force.

The senior Hamas official claimed that Hamas decided to proceed with the recruitment of another popular front in response to the recent clashes in Jerusalem and calls by far-right Israeli legislators to allow Jews to pray on the Temple Mount.

Originally, the 2,500-strong force was recruited as a reserve, emergency unit – part of Hamas' attempt to draw lessons from Operation Protective Edge.

Another al-Qassam Brigades official declared that the group had no shortage of manpower, weaponry, or terror tunnels, despite the heavy shelling by the IDF and Egypt's recent moves to create a buffer zone near its border with Gaza.

The official said "the people, arms and the tunnels are going well", in reference to Hamas's network of underground passages, hundreds of which have been destroyed by Israel and Egypt to prevent arms smuggling.

Meanwhile, the riots in East Jerusalem renewed at nightfall on Friday. There were clashes between residents and police forces reported in several neighborhoods. In one area, a Palestinian youth threw an explosive device at a Border Patrol unit attempting to disperse the crowd.

Clashes were also reported in the Old City, Isawiya, and the Shuafat refugee camp, where rocks, Molotov cocktails, and fireworks were thrown towards Israeli security forces, who responded with crowd-control measures to disperse the crowd.

Palestinian rioters threw rocks and shot fireworks at Israeli security forces in the Wadi Joz neighborhood of East Jerusalem. Security personnel used crowd-control measures to disperse the protesters. There were no injuries.

Noam (Dabul) Dvir contributed to this report.