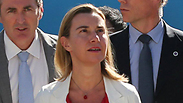 Mogherini in Gaza, Saturday
Photo: Reuters
GAZA CITY: The European Union's new foreign affairs chief Federica Mogherini Saturday appealed for the establishment of a Palestinian state, saying the world "cannot afford" another war in Gaza.
"We need a Palestinian state - that is the ultimate goal and this is the position of all the European Union," Mogherini said during a trip to Gaza, devastated by its third conflict in six years.
Hamas and Israel fought a 50-day war in July and August that resulted in the deaths of 2,140 Palestinians and more than 70 Israelis.
Mogherini's visit comes against a backdrop of surging Israeli-Palestinian tensions in East Jerusalem where there have been near-daily clashes in flashpoint neighbourhoods.
She voiced hope that Gaza would avoid another major conflict.
"It is not only the people of Gaza that can't afford having a fourth war, all the world cannot afford this," she said.
"We cannot just sit and wait. If we sit and wait it will go on for another 40 years. We have to have action now," said Mogherini, a former Italian foreign minister who recently took over from Catherine Ashton as the top EU diplomat.
Palestinians are seeking to achieve statehood in Gaza and the Israeli-occupied West Bank with East Jerusalem as the capital.
Sweden last month became the first EU member in western Europe to officially recognize the state of Palestine.
Asked whether the EU might do the same, Mogherini said that such a move was "not among the competences" of the 28-nation bloc.
On Friday, Prime Minister Benjamin Netanyahu met with the European Union Foreign Representative in his Jerusalem office and the two discussed recent events as well as regional politics. She also met with Foreign Minister Avigdor Lieberman.
"We see that there might be a political will to resume the talks and to especially make sure that these talks bring results," Mogherini said Friday at a joint press conference with Lieberman.
She slammed recent terror attacks as well as Israel's ongoing settlement construction, but said the EU remains committed to peace and Israel's security, which she directly linked: "Israel's security and safety will never be guaranteed unless there is a regional framework that fully allows that. The EU is and will remain ready to work in this direction with all partners of the region."
On Jerusalem, Netanyahu told Mogherini that "It is our capital, and as such it is not a settlement. The neighborhoods in which Jews live and in which we are building have existed for almost fifty years, under all Israeli governments. Everyone knows that in any peace settlement, they will remain part of Israel."
On the issue of settlements, Netanyahu said he reject the "outlandish claim that the root of the ongoing conflict is this or that settlement. The issue is not land, but rather our very existence and the refusal to recognize Israel with any borders."