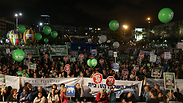 Last week's rally at Rabin Square
Photo: Yaron Brener
President Reuven Riblin chose to open his speech Saturday night at the second memorial rally for slain prime minister Yitzhak Rabin, with a quote from the late premier: "Violence is eating away at the foundations of Israeli democracy. It must be condemned, denunciated and isolated. This is not the way of the State of Israel."

These, Rivlin said, were Rabin's last words, said 19 years prior in the very same square in Tel Aviv.

"19 years have passed since, almost two decades. But violence has not gone away. It's inside us, rearing its head and towering over us, establishing its place," Rivlin said at the rally organized by Zionist youth movements and the National Union of Israeli Students.

Violence is not just at schools, in social media, in protests and in soccer fields, the president said. "It's inside us: the language we speak, the words we choose, the way we argue, in our inability to listen."

While Israel is in a violent and difficult neighborhood, violence is not Israel's way, he said.

"We won't win the war against terror only to lose the struggle for our character," Rivlin stressed. "We're in a continuous war against enemies from without, but we must stop targeting enemies from within," he added.

"We were silent then, in the difficult days before Rabin's murder. We have sinned, Yitzhak," Rivlin said. "We must not be silent today. We must understand that silence means having given up on the dream, that we have forgotten why we returned to our homeland."

Democracy cannot stand unsupported, the president went on to say. "Rabin wasn't murdered because of momentary weakness of Israeli democracy. But, and mostly because, the social atmosphere in which hostility and imperviousness reigned over us," he said.

"We didn't have a shared language, we didn't have a shared vision. We couldn't clearly indicate to values we share. And democracy is based on values, on listening, partnership and vision," Rivlin continued.

The president demanded the youth movements and students who organized the rally to "abandon the words we used to put a stain on the past, abandon the words we continue to use to put a stain on the present. Find the words to write ours and your future."

While the security forces protect Israel's borders, Rivlin said, "you will protect our home."

"You are the bridges built over that abyss that was once between us - left and right, haredi and secular, Arabs and Jews - you are now succeeding where we once failed," he continued.

"Despite the difficult and fundamental disagreements between us, we have shared values. We have what to believe in together, we have what to hope for together," Rivlin said.

"Let's agree to disagree. Let's listen, even if we are not convinced. We are here to learn to ask ourselves difficult questions about the shared vision guiding us, out of a brave effort to find answers as well."

"Challenge the walls separating you," he urged. "We are entrusted with paving a new way. We are given the challenge to change."

Rivlin concluded by promising to throw his support behind that effort. "I am here with you. I have here at your service. I am a soldier in the army of hope, faith and you vision."

Unlike the ceremony held last week that focused on political issues and the peace process, Saturday's rally, held under the banner of "Remembering the Murder, Fighting for Democracy," focuses on the implications the assassination had on Israeli democracy, dealing with violence, racism and incitement in Israeli society.

"The last summer's events have demonstrated how seriously Israeli democracy is threatened by violence in the streets, racism on the Internet and the murder of innocent people," the organizers of the rally said in a statement.

In addition to Rivlin, Racheli Frenkel, the mother of kidnapped and slain yeshiva student Naftali Frenkel, was also set to speak at the rally. Other speakers include actress and comedian Orna Banai, former Bnei Akiva Israel head Rabbi Yona Goodman and Haim Assa, who served as Yitzhak Rabin's strategic advisor.

Among the artists scheduled to appear are Ehud Banai and David Levi, Omer Adam, Assaf Amdursky and Israel Gurion, Dikla and Corinne Allal. Journalist Rino Tzror will be hosting the rally.

Yitzhak Rabin was Israel's fifth prime minister, serving two terms in office, 1974-77 and 1992-95. He was assassinated during a peace rally on November 4, 1995 by right-wing Israeli radical Yigal Amir, who was opposed to Rabin's signing of the Oslo Accords.