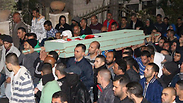 Funeral of Khair Hamdan
Photo: alarab.net
The family of a 22-year-old Israeli Arab shot dead by police lashed out at the authorities Sunday, rejecting police claims that he had been shot as he had posed a threat to the lives of four officers.
"I heard four or five shots, but did not understand where they were coming from," Rauf Hamdan, the father of Khair Hamdan, told Ynet. "Only later did I see how he was killed in the video. They could spray us with tear gas or shoot us in the legs, but they have no heart."
Rauf Hamdan was referring to video footage released Saturday, which appeared to show his son attacking a police vehicle with a knife in Kfar Kanna, near Haifa, but then backing away from an armed officer before he was shot.
Security footage of the shooting
Rauf Hamdan warned that the incident would ignite the whole Arab community in Israel.
"No one can accept what they have done," he said. "He knocked on the car's window without hurting any officers. He wasn't wielding a knife and didn't shout 'Allahu Akbar' (God is great) before knocking on the car window. My son's death resonates with the whole Arab sector, not just the village. The person who did this is inhuman. This will affect not just the town's residents, but all of Palestine."
He described attempting to prevent his son from confronting police, and asked why riot control measures were not used.
"That night, my son and I were sleeping at home, and suddenly we heard shouting," he said. "I went outside and saw him passed out. I brought him inside, and it became clear that the police had sprayed tear gas. I went to change clothes, and when I returned I couldn't find him; it turned out that he had gone to the road where the police car was. I tried to bring him back, but couldn't."
In a video documenting the incident, Hamas could be seen approaching a police car containing four police officers. He hit one of the panes with a knife, and when the officers exited the vehicle, he began to retreat.
The video then shows one of the officers shooting and wounding him. Hamdan was dragged to the vehicle and was treated by paramedics before being taken to HaEmek Hospital in Afula, where he died.
Hamdan's father said that his son was a devout Muslim with no criminal record. "The police killed him and had intended to kill, regardless of who was in front of them, whether it was my son or anyone else. I demand that the officer who shot him, as well as the others who were present, be punished."
"Just as they punish a former prime minister, the country's president, and other leaders, they should severely punish the officers involved in the shooting," he continued. "We lost a wonderful child whom we all loved."
He stressed that the family would not relent in their demand to punish the police officers.
The incident led to a number of riots and clashes in Kafr Kanna over the weekend, while thousands attended the young man's funeral. The High Follow-Up Committee for Arab Citizens in Israel declared a general strike encompassing businesses and educational institutions. Demonstrations were expected in the West Bank and in the Galilee.
The extreme tension, as well as the fear of the riots spreading to further Arab towns, led to a police decision to raise their alert level for the first time since the end of Operation Protective Edge.
"We are all preparing for any unusual incidents. It's a tense situation. We're doing everything we can to stop any rioting," said a senior police source.
Israel Police Commissioner Yohanan Danino called for the public to wait for the results of the official investigation.
"There is no different operational procedure for any population segment. Enforcement has been and will remain equal, professional, and fair."