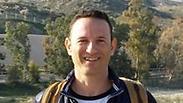 Keith Berman. 'He was a wholehearted Zionist'
Keith Berman remained a Zionist till his very last day. After he had brought thousands of young Jewish Americans for a gap year program in Israel, his donated organs saved the lives of four Israelis during an organ-transplant marathon held at the Sourasky Medical Center in Tel Aviv last week.

Berman died last Sunday at the age of 48 following a heart attack. He was born in New York and later lived in Florida. He completed his psychology studies at Miami University while working with Zionist youth and helping bring Jews to Israel.

Haredi Pressure

Program encouraging organ donations will not be implemented at Hadassah Medical Center in Jerusalem following explicit request from leader of extremist Eda Haredit organization.

In 1988, he made aliyah himself, joined the IDF's Nahal Brigade and studied for a master's degree at the Hebrew University in Jerusalem.

He later got married and had three children, who are now aged 13, 15 and 17. About eight years, after coming out of the closet, he got divorced. His ex-wife supported him through the process and they remained good friends.

About five years ago, Berman decided to start his own Zionist enterprise and launched the Aardvark program in cooperation with the Jewish Agency and Masa Israel project. As part of the gap year program, young Jewish Americans aged 17 to 21 arrive in Israel for academic courses in local universities and volunteer in different organizations.

"He was a wholehearted Zionist," Berman's friend and Aardvark's marketing coordinator, Liron Yadin, told Ynet. "He wanted the Jews to experience Judaism and Israeliness from the inside, and believed that they would choose to make aliyah themselves following their journey here. This year a record number of people registered for the program, and he was so happy."

On Friday, October 31, Berman was rushed to the hospital after suffering a serious heart attack. Shortly after his arrival, he was declared brain dead. His parents and sister, who live in the United States, immediately agreed to donate his organs, knowing that he had expressed his desire to do so many times.

Berman's funeral was held last Sunday at the Yarkon Cemetery in Tel Aviv. It was attended by 400 people, including new immigrants who came to Israel thanks to his Zionist enterprise.

"We were proud of him till his very last day," said Yadin. "He saved people, and a part of him lives within them. I have lost a close friend, and we still can't believe that he is no longer with us.

"His donation provides a certain comfort, another small piece in the huge puzzle of his great donation to society in Israel."