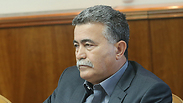 Amir Peretz
Photo: Alex Kolomoisky
Environmental Protection Minister Amir Peretz will resign from the government Sunday before the vote on the 2015 state budget the next day.

Peretz, who left the Labor party ahead of the last elections to join Tzipi Livni's Hatnua, decided to resign over the state budget that he dubbed as "anti-social."

He announced his intention to resign on Meet the Press on Saturday, following which reports arose that Prime Minister Benjamin Netanyahu was considering firing Peretz ahead of the vote on the budget.

Peretz used his last cabinet meeting Sunday to explain the reasons to his resignation and to exchange barbs with Netanyahu.

"At least during the first year of the government's term, Tzipi Livni held negotiations and Israel's status strengthened," Perez said. "But now there are no negotiations and the prime minister needs to calm things down and look through a broader spectrum.

"All areas of life have been struck with an earthquake in recent months but the prime minister, rather than nagivate and find solutions, is looking for someone to blame. His job is to rise above criticism and political agendas and take responsibility for the citizens of Israel," Peretz went on to say.

"I waged a war against terror with determination, just like you," Peretz told Netanyahu, "both against Hezbollah and against Hamas, and I believed in and promoted a diplomatic process as part of an overall security understanding," he continued.

Netanyahu responded to Peretz's accusations with a quip, "With you, it's 'if you didn't evacuate, you didn't do anything.' The only initiative is to jump off the cliff and fold."

The prime minister went on to say that "a leader's job is to see the reality and rally the troops."

"We're in the midst of an incitement campaign by extreme Islam. Everyone can understand that. Unfortunately the Palestinian Authority, led by Mahmoud Abbas, is a part of this. Abbas runs away from every agreement. He chooses to go on this path."

In the conclusion of his statements, Netanyahu turned to Peretz and thanked him "for realizing your place is not around the government table."

Recently, Peretz stated that "Netanyahu's sand has run out," and that he could not sit in a government that encourages the use of inflammatory language instead of working to calm the situation down.

Sources close to Peretz said the last straw came when during events marking the anniversary of the assassination of slain prime minister Yitzhak Rabin, Netanyahu made speeches that Peretz felt were only inflaming tensions.

According to Peretz, "governments that continue building in settlements, don't advance a diplomatic process and put out a budget with no tidings - is a government I cannot support."

Over a month ago, after Finance Minister Yair Lapid presented the 2015 state budget, Peretz told Ynet that he does not intend to support that budget.

"There need to be big changes for me to be able to support this budget," Peretz said then.

"You can't approve this budget without dealing with social gaps. It has been proven that the weakest sections of society are the ones dealing with the hardest of challenges," he said. "I have no intention to accept a situation in which the issue of narrowing social gaps is not a leading and main issue."