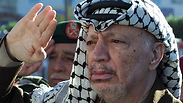 Yasser Arafat
Photo: GettyImages
RAMALLAH - For decades, Yasser Arafat was the incarnation of the Palestinian fight for independence. Ten years after his death, he remains a national hero in the eyes of the Palestinian people.
When he died on November 11, 2004, he was the president of a moribund Palestinian Authority, an interim body set up in 1994 which was to have handed power to a permanent government by 1999.
His successor Mahmoud Abbas has managed to obtain the UN rank of observer state, but on the ground the Palestinians still await their own state.
"It was Arafat who was the first to take the painful decision to recognize the 1967 lines and abandon 78 percent of historic Palestine and open the way to coexistence," said Xavier Abu Eid, spokesman for the Palestine Liberation Organization (PLO), which signed the 1993 Oslo peace accords with Israel.
But when the interim period ended without a permanent agreement in 1999 and the US-led Camp David peace talks collapsed a year later, things went from bad to worse with the outbreak of the second intifada, or uprising.
As the situation deteriorated, Israel depicted Arafat himself as the main obstacle to peace, suggesting a new era was at hand when he died.
"In 2004, Israel said the main obstacle to peace was gone, and said it would work with the new elected president," Abu Eid said.
"But a few months later, they withdrew from Gaza, a unilateral decision taken without any coordination with Mahmoud Abbas," he said of Israel's withdrawal of all troops and settlers from the Gaza Strip in August 2005.
Largely ignored by Israel, Abbas has struggled to assert his authority among Palestinians, he said.
Personal charisma
Although Abbas took over as head of both the PLO and the Palestinian Authority, and leader of the Fatah movement - such organizations are "much less imposing" than they used to be under Arafat, said Nathan Brown, non-resident senior associate at the Carnegie Endowment for International Peace in Washington.

Popularly known as Abu Ammar, Arafat "exercised a personal charisma but he didn't know how to delegate, to build institutions or plan for the future," said Karim Bitar of the Paris-based Institute for International and Strategic Relations.

"He was a revolutionary but not a statesman, he was born for action and communication, not for strategic thinking," he told AFP.

"Palestine is (today) a prisoner of agreements which were very badly negotiated by Arafat. Exiled to Tunis, he wanted to come back to Palestine so he made huge concessions without getting any guarantees over a halt to settlement (building) or an end of the occupation," Bitar said.

"He only got promises which were never fulfilled."

Deadlines laid out in the Oslo Accords passing without progress dented Arafat's popularity, said Brown.

"His final decade saw him lose much of his attraction in terms of his failure to deliver a Palestinian state, tolerance of corruption, and so on," he said.

Palestinians are still condemning Israeli settlement building and trying to secure a timetable for the creation of a state within the 1967 lines. This month, the Palestinian leadership is to submit a draft resolution to the UN Security Council calling for an end to the "Israeli occupation" within two years, in a project likely to be vetoed by Washington.
Internal squabbling
As leader of Fatah which Arafat founded in the late 1950s, Abbas also faces internal battles.
"Arafat embodied a secular nationalism that has lost a lot of ground as a result of the Islamisation of the Palestinian question," Bitar said.
From the West Bank to Gaza, the same refrain can be heard: "There would never have been any Palestinian division under Arafat."
Palestinians are unanimous in their belief he would not have allowed the quasi civil war between Fatah and Hamas in 2007 which saw the Islamist movement ousting their rivals from Gaza and the establishment of two separate administrations.
In fact, said Brown: "Even Hamas is respectful of his memory."
The Islamist movement also recognizes him as some kind of father figure, although not to the extent that it has permitted an annual public memorial to be held in Gaza.
This year, however, following an April reconciliation agreement between the PLO and Hamas, a remembrance ceremony will be held on November 11.
"Despite all his failings and poor decisions, his message was heard from refugee camps in Lebanon to Palestinians living in Chile, via Gaza and the West Bank," said Abu Eid.
Always dressed in his trademark fatigues and traditional keffiyeh headscarf, Arafat "was certainly leader of Fatah but he was also a national symbol," said Brown. "And he is viewed now as a martyr for the cause."
Arafat's death still remains a mystery with some research indicating he may have been poisoned by polonium, a controversial theory which is accepted by much of the Palestinian street.
"Nobody has yet come up with a dispassionate critique of the Arafat era as he was so closely identified with the Palestinian cause that this would be potentially explosive," Bitar concluded.