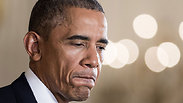 US President Barack Obama
Photo: AFP
US President Barack Obama said there was still a big gap between Iran and Western powers on an agreement to ensure Tehran cannot produce a nuclear weapon and he said a deal could be out of reach.

Economic sanctions led by the United States have pushed Iran to the table for an agreement on its nuclear weapons program, Obama said in an interview broadcast Sunday on CBS "Face the Nation" program.

A final step would involve Iran providing "verifiable, lock tight assurances that they can't develop a nuclear weapon," Obama said. "There's still a big gap," he told CBS. "We may not be able to get there."

The decade-long standoff over Western suspicions that Iran has covertly sought to develop the means to build nuclear weapons - something it denies - has raised the risk of a wider war in the Middle East.

Iranian Deputy Foreign Minister Mohammad Javad Zarif held talks with US Secretary of State John Kerry and senior European Union envoy Catherine Ashton in Oman on Sunday to try to narrow big gaps before full negotiations formally resume in Vienna on Nov. 18.

Zarif said on Saturday Iran sees no alternative to a diplomatic settlement with six world powers on its nuclear program and believes both sides are resolved to reach a deal by a self-imposed Nov. 24 deadline.

Obama declined to comment on a report that he sent a letter to Iran's Supreme Leader, Ali Khamenei, about combating the Islamic State militant group.

Obama said the United States and Iran shared a common enemy in Islamic State, but reiterated the nuclear talks were not connected to the fight against Islamic State, also known as ISIL. "We're not coordinating with Iran on ISIL," he told CBS.

The new US Senate, in which opposition Republicans will have a majority following midterm elections on Tuesday, is likely to be skeptical of any Obama deal with Iran.