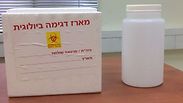 Ebola detection devices transferred to Strip
Photo: Coordinator of Government Activities in the Territories headquarters
Israel transferred Ebola screening tools on Sunday to Palestinian Authority in the hopes it will help PA officials in diagnosing the virus among those entering the West Bank from Jordan and the Gaza Strip through the Rafah Crossing. The transfer was made following a Palestinian request.

The aim behind the move, among other reasons, is to prevent the possible spread of the deadly virus not only in the Gaza Strip, but into Israel's territories as well. As part of the agreement, the Allenby border crossing with Jordan will also be supplied with the detection devices.

The medical equipment was transferred to the Health Ministry offices in the Gaza Strip, from where it was taken to the Rafah Crossing. Hamas is the sole party responsible for the transport of the equipment once it reaches Gaza.

The equipment includes a special thermometer that can measure a person's temperature with no bodily contact, which was transferred to Hamas security forces, who have exclusive control over the Rafah area. Also transferred were dozens of laboratory kits for diagnosing the virus through the use of a blood test, as well as protective suits.

The act of collaboration benefits both parties, as Israel recognizes the possibility that the reach of the deadly virus to the Gaza Strip, imported from African countries, increases the chances that the disease could spread into Israeli territories.

In recent weeks, the Rafah Crossing was closed due to the latest terrorist attack in Sinai, but the transfer of the equipment has already been made to ensure that Gaza's Health Ministry officials will be able to prepare accordingly.

The transfer of the equipment into the Gaza Strip is only a small part of the overall collaboration between Israel and the Palestinian Authority over this matter – even in times of great tensions between the two sides.

As part of the collaboration efforts, regular meetings are being conducted between the parties under the supervision of the Israeli civilian committee, headed by Coordinator of Government Activities in the Territories, Major-General Yoav Mordechai and the Palestinian Minister of Civil Affairs Hussein al-Sheikh. The meetings, which were held in Israel, were also attended by representatives from Gaza's Health Ministry.

According to the agreements reached, Palestinians suspected of having contracted Ebola will be transferred to the hospital in Jericho, where preparations were made regarding examinations of people who may have been infected by the virus.

Palestinian medical authorities were also equipped with laboratory kits and protective suits. In the case of a suspected Ebola case, laboratory samples will be transferred from Jericho to the World Health Organization (WHO) for inspection, under strict security measures.