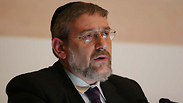 Rabbi Melchior. 'Without religion we're not going to solve environmental problems'
Photo: Gil Yohanan
As religion is being used around the Middle East to advocate murder, a group of clergy in Jerusalem say they want to use religion as a means of shared environmental activity.

"In Islam, the earth is the place that God chose to that people can use it for worship," Imam Wisam Barhum, from the village of Ein Rafa near Jerusalem, told The Media Line. "We must preserve this place and keep it the way God created it so man can worship God."

Talking Religion

University president suggests during Vatican meeting that institution will serve as a home base for dialogue between religions, which pontiff and former President Peres agreed to work together to advance.

Barhum was speaking at a recent conference on Faith and Ecology Sponsored by the Interfaith Center for Sustainable Development which brought together Muslim, Jewish and Christian clergy and seminary students in Jerusalem. The students rarely have an opportunity to meet each other so the conference served to forge personal connections as well.

Religion is not always a force for environmentalism, said one of the Jewish attendees.

"Religion can lead to passivity," Rabbi Yuval Cherlow, the head of a program that combines Torah study with army service, told the conference. "God is responsible, and I need to pray rather than solve the problems of the world."

In addition, he said, religious people tend to focus on their relationship with God, rather than physical questions like water. Judaism does not have specific commandments regarding environmentalism or sustainability, and that could lead to a belief that it is less important.

At the same time, he said a broader religious perspective makes it clear that environmentalism is a Jewish responsibility.

"Man was created in the image of God," he said. "Therefore, he needs to take responsibility for the world. We must work on perfecting the world, as part of our connection to God."

For Christian Palestinian bishop William Shomali, it is clear that if we don't take care of the world, we will not be able to worship God in that world.

"This is a religious issue because it relates to God, who is the Creator and asks us to respect the creation," Bishop Shomali told The Media Line. "It's also an ethical problem because there are values behind it that we should respect."

Part of the conference was held outside in a nearby park. The pairs of seminary students roamed around a park in downtown Jerusalem feeling trees with their eyes closed. They then tried to figure out which tree they had felt – often unsuccessfully.

"This exercise is an environmental educational activity that helps people relate to trees in a different way," Rabbi Yonatan Neril, the director of The Interfaith Center for Sustainable Development, told The Media Line.

"People think of trees as something we use for paper or disposable dishes, but an average American uses one tree per year. Most people have never cut down a tree and don't realize they're using trees."

Neril says that clergy are not doing enough to teach about the environment.

"Faith communities have tremendous potential to inspire action and awareness on environmental sustainability," he said. "Clergy and emerging clergy can increase the teaching they do that relates to their faith in environmental issues."

As part of the conference, each student or clergyman was asked to commit to teaching about the environment at least twice a year, and given a handbook with religious sources to help them do that.

There are an estimated 1.2 billion Catholics in the world and 1.6 billion Muslims. Increasing their environmental awareness could make a significant change in helping reverse some of the damage that modern technology has done to the world. Environmentalism is one area that easily lends itself to interfaith cooperation.

"This is an area that is easy to work together," Rabbi Michael Melchior, a former Israeli deputy foreign minister, told The Media Line. "If you pollute then everybody else dies also. In other areas, you can believe that if you grab more of the land you can be winning. But here if you grab more, you die and your neighbor dies. We need to work together."

So far, there has not been nearly enough religious cooperation, he says.

"Even in Jerusalem, where we're all neighbors, we don't talk to each other," he said. "Because of conflict, hatred and suspicion it's difficult to get together and do serious things together. The politics get in the way and it's too bad.

"Religion is the biggest NGO in the world and without religion we're not going to solve the environmental problems and we're not going to make peace."

Article written by Linda Gradstein.

Reprinted with permission from The Media Line .