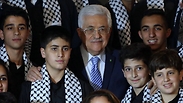 President Mahmoud Abbas takes a photograph with Palestinian youth at Arafat Museum in Ramallah.
President Mahmoud Abbas announced on Monday that the shrine of late president Yasser Arafat will be moved to Jerusalem "the capital of Palestine" at the earliest opportunity, the Ma'an News Agency reported.

The announcement was made by Abbas during the opening of the Arafat museum in Ramallah. Abbas said that Arafat deserves to "remain immortal in the hearts of our people."

Meanwhile, on Sunday, the Fatah movement said the commemoration of the 10th anniversary of the death of Arafat in Gaza would be canceled, Ma'an reported. The ceremony was scheduled to occur on Tuesdy and would have been the first commemoration of Arafat's death allowed in the Strip since Hamas took control of Gaza in 2007.

"After the series of explosions and assaults against Fatah leaders, we have been notified by Hamas' political and security officials that security services won't be able to take charge of security arrangements during the Arafat anniversary ceremony," said a senior Fatah leader in the Gaza Strip.

A Hamas-affiliated spokesman confirmed the cancellation, Ma'an reported.

Iyad al-Buzm, the spokesman of the former Hamas-run government's interior ministiry said the cancellation occured "due to serious tension amidst the public, and the exchange of accusations after the suspicious explosions in Gaza, as well as other logistic difficulties."

He added that Prime Minister Rami Hamdallah had not been coordinating with Gaza security services, and that his unity government had not paid any salaries to security officers in Gaza, which created "logistical difficulties," according to the report.

Meanwhile, Fatah said on Saturday that despite a series of bomb attacks targeting Fatah members in Gaza, it would continue preparations for the event.

All Palestinian factions were to take part in the celebrations for the late Palestinian leader, who fell into a coma and died of on November 11, 2004.

Early Friday, explosions targeted the homes of several Fatah leaders in the Gaza Strip.

Fatah said the attacks "aimed to sabotage the commemoration of the anniversary of Arafat's death," and some Fatah officials blamed Hamas for the attacks.

Hamas denied responsibility and condemned the incident, calling it a "criminal act."

Fatah and Hamas signed a unity deal in April and in June the West Bank and Gaza were brought together under a national consensus government.