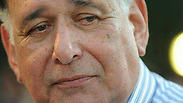 Yona Yahav: Step back, just for one day
Photo: Courtesy
After years of fruitless effort to communicate in various languages, Israeli society appears torn into two unequal halves – Jews on the one side, Arabs on the other, and an abyss between them. Instead of bridging the gap, however, we're focusing on the past rather than the future, on guilt rather than responsibility. There's no longer a dialogue taking place here, only two violent monologues that just happen to be underway in the same volatile expanse.
Now that the words have become rocks and the bullets have sparked fires, Jewish and Arab public figures are seeking to douse the flames and speak about our common future, Jews and Arabs, and how to repair neighborly relations before it's too late. All of the people with whom we spoke have different viewpoints and solutions. One talks about the occupation, another about the escalating violence, a third about discrimination; but all agree that now is the time to sit down together and change things, so that we don't slip into another 100 years of war.
"Now's the time to stop the escalation, hostility and hatred, and to think of ways in which we can coexist here, Jews and Arabs, side by side," says Ashkenazi Chief Rabbi of Israel David Lau, who will soon be staging an inter-faith convention for the country's religious leaders.
"The religious leaders and representatives of the two peoples must be proactive in order to find ways to live here together, as good neighbors at least. The cycle of hatred and bloodshed must be stopped, and we need to concern ourselves with our common interests as opposed to the things that divide us. We bear a heavy responsibility to calm things down."
Poet Salman Masalha believes we need to look inward, at the Arab society, but outward too, at the fragile relationship between the State of Israel and its Arab citizens.
"Leaders of the Arab public frequently approach the Israel Police with demands to enforce the law in the Arab communities, to confiscate weapons, to enforce traffic laws, and to apprehend and bring to justice murderers of Arab women," Masalha says.
"These demands are most justified. At the same time, the positions expressed by the country's Arab leadership often sound full of contradictions with respect to a sense of belonging to the state and its institutions – and it's high time these were resolved. State President Reuven Rivlin recently visited Kfar Qasim and declared there that the Arab citizens are 'not a fringe group… but part and parcel of the State of Israel.'
"In order to calm the ill winds that are blowing in Israel, the government is duty bound to publicly declare that it is adopting the president's heartfelt words. And if this comes to pass, then the Arab leadership, too, is responsibility bound to demonstrate civic courage and respond with a similar declaration about upholding the democratic game rules.
"Demonstrate as much as you like; but don't vandalize public property. Arab Israelis must be full partners in every regime in the country. Such a partnership requires that Arabs ministers fulfill executive roles in any and every government established here. Such a partnership requires an Arab policeman in every patrol car and Arabic writing on every patrol car, so as to do away with the sense of alienation that exists between the Arab citizen and the police. Such a partnership allows all of the country's citizens to bear responsibility for what goes on."
In the footsteps of Jabotinsky and Hussein
Novelist Haim Be'er would first like to hear the prime minister assume command over the deterioration.
"Instead of learning a lesson from Rubi Rivlin, a distinct disciple of Ze'ev Jabotinsky, he does nothing in practice," Be'er says. "History and geography have condemned us to live here together. Within Zionism, there's a deep affinity to the Arabs, and those who ignore this could bring about an end to Zionism. Gestures speak volumes everywhere in the world, and even more so in the Middle East. We've witnessed King Hussein and Anwar Sadat. The distance between Amman and Beit She'an is greater than the distance between Jerusalem and Kfar Kanna.
"Netanyahu needs to take responsibility, to announce key measures, so that the Arab citizen feels that he's being taken seriously this time. On the civilian level, Israel's Arabs are discriminated against and humiliated, and the building can be started with small things. The moment the Arab Israelis are treated with dignity, the situation will become saner."
Actor and director Norman Issa agrees that the violence must stop, and is convinced that only the establishment can stop it.
"We were playing the same scene in October, and long before then too, when we asked and called repeatedly for calm and an end to the violence, and nothing happened," Issa says. "We need to treat the Arabs fairly and equally, just like we treat the Jews. There are two peoples living here, not just one. When things calm down, we will have to teach Jews and Arabs to live in mutual respect, but it will take years, and it's a matter for the culture and education institutions. I believe it is possible, because we are all human."
Haifa Mayor Yona Yahav sees the delicate fabric threatening to unravel in his mixed city too.
"I don't want to talk about the geostrategic conflict in the Middle East," Yahav says. "I don't want to talk about land, religion, culture or borders. I don't want to talk about what will be here in the year 3000. All I ask is that we, Arabs and Jews, just for one day, stop writing talkbacks, stop antagonizing, stop declaring days of rage, stop dying for the sake of Al-Aqsa or submitting land registration claims for the construction of the Third Temple – and focus just for one day on self-reflection. If we wish to continue fighting thereafter, we are well-versed in how to do so."
Dr. Suhail Diab, an ER physician at Rambam Hospital, was elected mayor of Tamra in the Lower Galilee last year.
"I hope that everything passes quietly," Diab says. "If we, the sane ones on the two sides, think differently and act differently, the situation will calm down. After all, we are destined to live here together. As a doctor who studied in Spain, I don't differentiate between blood and blood. Arab blood is the same as Jewish blood. Christian blood is the same as Muslim blood. We are all human beings. I'm assuming responsibility and calling on all the youth to avoid confrontations with the police. Most of the Arab population in Israel believes in coexistence – but we demand mutual respect."
Author Amos Oz agrees with Dr. Diab, and he, too, points a finger inward first and foremost.
"If we end the occupation, all will be resolved," Oz says. "This is the only way to resolve all the problems. There's no tranquil occupation and there's never been a tranquil occupation. There's no such thing; it's like a flood without water. The discrimination felt by the Arab Israelis is also linked to the occupation. We cannot call on the Arab public to calm down until we end the occupation."
Back to the source
Writer Oudeh Basharat explains that the rage, just like on previous occasions, stems from the sense of discrimination.
"Those who harm Arabs must be handled without any pretense, in the same way that those who harm Jews are dealt with," Basharat says. "Arabs feel that the police are trigger happy when it comes to incidents in which they are involved. It undermines trust in the police. I understand the anger of the Arab street – nevertheless, I call for demonstrations and protest within the framework of the law. I want the Jewish side to contribute to the fight against discrimination."
Actress Liora Rivlin felt the current dark wave approaching. "It's impossible to calm things down or resolve what is happening by force, and ignore the history, the chain of foolish steps that resulted from the occupation," Rivlin says.
"Just like us, the Arabs want to live, thrive, raise and educate their children as proud citizens. Until that occurs, we won't have peace and well-being. I'm concerned that our leadership is blind, stumbling, stupid, corrupt, and isn't really interested in a solution. A country like this one, with its potential of talent, spirit and extraordinary people, is being dragged into destruction."
Mazen Ghanaim is a man of many titles – the mayor of Sakhnin, chairman of the committee of Arab local council leaders, and deputy chairman of the Arab Monitoring Committee. He isn't very optimistic at all.
"No one wants war, but we cannot stand idly by," Ghanaim says. "Unfortunately, the situation is only getting worse. Since the events of October 2000 and through to today, 49 Arab Israelis have been murdered by the police. You ask about calming things down and taking responsibility. It's up to the prime minister and the minister of public security. We're trying to calm things down and see where we go from here. Yesterday, I requested a meeting with the prime minister and the minister of public security to lay out all of the sector's problems to them. I've yet to receive a response. None of us want to heat up the sector; instead, we want to lower the flames."
Poet Erez Biton links the current tension with the socioeconomic situation. "It doesn't matter who is right," Biton says. "We are two nations on one patch of land. Without a foundation of mutual respect, trust and justification for the very existence of the other, we won't resolve the conflict. We need to avoid provocation, to promote dialogue and understanding, to accept the presence of the other, within Israeli society too. We need to be more familiar with each other's culture and language and avoid religious provocations."
Sports broadcaster Zouheir Bahloul, an Israeli cultural icon, fears that if we fail to wake up, the situation will only deteriorate.
"There's no moderating element in the Israeli leadership," Bahloul says. "We've become estranged. There's been a huge build-up of mistrust due to racist behavior on the part of some captains of the state. Racist laws are enacted against us, like the law that is undermining Arabic's official-language status.
"The prime minister doesn't embrace the civilian Arab public that condemns some of our boys who have joined Islamic State. Instead, he emphasizes only those few and talks about 'those who call for Israel's destruction' as if we are all that way inclined. I stretch out a hand of reconciliation to the Jewish public. We need to try to repair the damages, to take responsibility, to calm things down, to demilitarize the Israel Police rather than turn it into a security entity. I expect someone with lofty ideals and clear reasoning to step up and try to restore sanity to this system."
Moshe Ronen, Elad Zeret, Yoav Birnberg, Noam Barkan and Yehuda Shohat contributed this article.