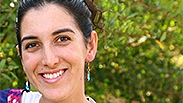 Dalia Lemkus, 26, from Tekoa, escaped with her life from a stabbing attack in Gush Etzion in 2006, but fell prey to a different terrorist in the West Bank on Monday night.

Dalia was stabbed to death by Maher al-Hashlamun, 30, from Hebron, who ran over the hitchhiking stop where she was waiting outside Alon Shvut in Gush Etzion, stabbed her and two others and then returned to make sure she was dead.

Lemkus was wounded in another stabbing attack in February 2006 at the age of 17. She was lightly wounded when a 28-year-old Hebron resident arrived at the Gush Etzion Junction with a knife and started stabbing those there - Lemkus and another man, who was moderately hurt. A police officer on vacation happened at the scene of the attack that day. He noticed the terrorist stabbing those at the hitchhiking stop, got out of his car and cocked his weapon. The terrorist then fled the scene.

A month later, Lemkus posted a comment on a news story about the attack: "I was standing at the Gush Etzion Junction when 'suddenly' a terrorist came and started stabbing those at the hitchhiking stop. I was among those stabbed. It was a miracle that I was not seriously wounded, and the other wounded man is recovering, thank God. But where was the 'Women against the Occupation and for Human Rights' group to document the stabbing? Where???"

Dalia's family made aliyah to Israel from South Africa over 20 years ago and has become a prominently active family in the community, a resident of Tekoa told Ynet.

"It's a very special family. The father, Nahum, is an optometrist and the mother, Brenda, works in an Israeli online sales company that sells products abroad thanks to her English," the resident said.

"What makes them unique is their drive to volunteer, they just have to help whoever needs it. Father Nahum volunteered in Magen David Adom and jumped at any assignment like a devil," he said.

Tekoa Secretary Aryeh Heskin also spoke of the family. "The Lemkus family has been living in Tekoa for 15 years. There are 750 families living in Tekoa, and the community is considered one of the biggest in Gush Etzion, with both religious and secular residents. Despite the size of the community, everyone knows the Lemkus family that contributes a lot.

"We're a strong and united community and we're sure we could support the family and help them through this crisis. We will continue to grow despite the difficult times."

Dalia, who was murdered in the terror attack, "was working in occupational therapy and volunteered a lot, mostly in Yad Sarah (which loans of medical and rehabilitative equipment and other services for homebound and elderly) that opened a branch in Tekoa a year and a half ago. She was very dedicated and even at night, after closing time, she would come to help whoever needed help, at any hour of the day."

Lemkus will be laid to rest in the Tekoa cemetery on Tuesday at 10am.