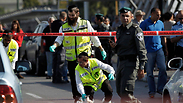 Terror returns to Tel Aviv
Photo: Reuters
More Israelis have been murdered from attacks by terrorists from the West Bank and East Jerusalem in the last month than in the past two years combined. The dismal statistic comes as uncertainty and fear of more violence prevailed in the wake of two deadly stabbing attacks in Tel Aviv and Alon Shvut on Monday.

Sergeant Almog Shiloni, 20, from Modi'in, killed in Tel Aviv, and Dalia Lemkus, 26, who was stabbed to death at the entrance to Alon Shvut, were the tenth and eleventh Israelis to be murdered in the past six months. They are the fifth and sixth fatalities in the past month, compared to five Israeli deaths from terror emanating from the West Bank in all of 2012 and 2013.

Furthermore, more than 100 Israelis have been wounded in the past month due to terror attacks with perpetrators coming from the West Bank.

Last week, Druze border patrol officer Jadan Assad, 38, and Yeshiva student Shalom Baadani, 17, were killed when a Palestinian terrorist rammed into a crowd of people at a Jerusalem light rail station.

A week prior, right-wing activist Yehuda Glick was shot outside of a convention in the heart of Jerusalem advocating Jewish prayer at the Temple Mount.

His attack came a week after three-month-old Haya Zissel Braun and 22-year-old Ecuadorian Karen Mosquera were killed by a terrorist who also drove a car into a Jerusalem light rail station.

Monday marked one of the bloodiest days in recent memory, with the stabbing attack in Tel Aviv, the attempted hit-and run that became a stabbing at Gush Etzion, and more violent riots in Kafr Kanna and other Arab communities in Israel, .

The day's attacks ended with stone-throwing between settlers and Palestinians close to the Huwwara checkpoint near Nablus, chants against Arabs on the promenade in Bat Yam, stone-throwing by right-wing activists who protested near an exhibition by left-wing organization B'Tselem in Jerusalem, and a suspected terrorist infiltration at the Kokhav Ya'akov settlement, near Jerusalem.

Yoav Ziton, Shahar Chai, Omri Efraim, Moran Azulay, Gilad Morag, Itay Blumenthal, Noam (Dabul) Dvir, Elior Levy, and Attila Somfalvi contributed to this report.