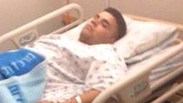 Nur a-Din Hashiya in Tel Aviv hospital after stabing and killing Israeli soldier.
Nur a-Din Hashiya, the 18 year-old terrorist from the Askar refugee camp in the West Bank, who stabbed and killed Sergeant Almog Shiloni in Tel Aviv on Monday, remains hospitalized at the Tel Aviv Sourasky Medical Center (Ichilov) on Tuesday under strict supervision and handcuffed to his bed.

A picture of Hashiya in the hospital went viral on Tuesday morning before a hearing to extend his remand was set to take place at Tel Aviv Magistrate's Court.

It is still unknown who took the photo, however the Sourasky Medical Center asked security to investigate how the photo was distributed and said that hospital workers were not behind the photograph. The picture, which was uploaded to Facebook, caused an uproar that Israel was treating a terrorist.

The police are expected to request an extension the remand of Hashiya after a meeting that took place with representatives of the police, prosecution and Shin Bet security service.

The investigation unit hoped to conduct a thorough interrogation of the terrorist on Tuesday, to discover the motives that led him to initiate the deadly attack.

The police and Shin Bet were also trying to determine whether Hashiya received assistance in entering Israeli territory. According to preliminary estimates, Hashiya entered Israel illegally the night before the attack.

Hashiya affiliates himself with Hamas and has expressed his support for the terrorist group in the past.

Hashiya was wounded by his own knife when he attacked Shiloni outside a Tel Aviv train station on Monday. He was treated at the scene of the attack by Magen David Adom and taken to Sourasky.

Yaron Kelner contributed to this report.