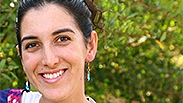 Dalia Lemkus was laid to rest on Tuesday after being murdered by terrorist in Alon Shvut on Monday.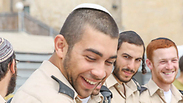 Almog Shiloni: Killed in Tel Aviv on Monday
More than a thousand people turned out at Mount Herzl military cemetery in Jerusalem on Tuesday afternoon, for the funeral of terror victim Sergeant Almog Shiloni, killed a day earlier in a knife attack at a Tel Aviv train station.

Leading the eulogies was Almog's twin brother, Sahar.

"They told me to prepare a few things and I said no. You tell me what to say," Sahar said. "I know that you would want me to say that everything is okay, and that you are looking over us from above. Anyoe who really knew you was proud of you and as your twin brother, your other half, I was the proudest of all."

He recounted an event at their family home about three weeks ago, which he said illustrated his brother's caring nature.

"We met at home for Shabbat and you brought a lonely soldier. It was so typical of you to bring someone who had nothing else to do, nowhere to go and nowhere to eat, and so you brought him to our home. Why? Because you are a person who looks out for others, worries about everyone, but you didn't take care of yourself."

"I had one heart and now I have half a broken heart," he concluded.

Funeral for Almog Shiloni (צילום: אלי מנדלבאום)

Almog's was the second funeral Tuesday for a victim of a terror attack the day before. On Tuesday morning, Dalia Lemkus, murdered in a separate knife attack at the entrance to the Alon Shvut settlement, was laid to rest in the Tekoa settlement where she lived.

Speaking at her funeral, Dalia's sister Michal called on Israelis to keep living their daily lives, while her father said Dalia had been killed simply because she was a Jew living in Israel.

"I want to scream to everyone, to my nation, and especially to myself: Don't stop hitchhiking. Don't give them the pleasure of successfully stopping us from living our lives; simply do not stop your life," said Michal. Dalia had been killed at the hitchhiking post at the entrance to the settlement, almost five months after three Israeli teens were abducted and murdered by Palestinian terrorists while hitchhiking in Gush Etzion.

Michal recounted a conversation she had had with her sister after Dalia had been lightly wounded in a stabbing attack at the age of 17.

"After the stabbing attack in 2006, I asked you how you could continue to hitchhike and stand at the intersection where you had been stabbed at, and you nobly strengthened me: 'You think I'll let them beat me?'"

Dalia's father, Nahum, told mourners that she had been killed for being a Jew living in Israel.

"The terrorist knew the truth, which is that the place where he lives belongs to us, to Dalia, and standing at the intersection of Alon Shvut proves this truth," he said.

"There is one thing (the terrorist) did not understand: That his heinous act of murder will not succeed in breaking our stance and the stance of Israel. He murdered you because you were a Jewish woman living in the land of Israel. Here at your grave you connect all of us to this holy land."

Miriam, another sister, said "You always accompanied me and showed me the way. We always thought the same thing, and even then you sent me a sort of message that there was a terrorist attack, and the second I heard I knew it was you. I called and you did not answer. Your absence will be felt in so many ways, and now that you are up there you will help us figure things out without you."

Also present was Knesset Speaker Yuli Edelstein, who expressed his disappointment that the man who killed Dalia had not been killed during his arrest.

"It's a shame that the guard at Alon Shvut missed by a couple of centimeters," he said. "Security forces, with God's help, will find terrorists like they found Yehuda Glick's assassin."

Edelstein also called for the expansion of settlements as a response to terrorist attacks.

"I myself passed this hitchhiking post and picked people up, and my children and - with God's help - my grandchildren and great-grandchildren will do the same. If this hitchhiking post is moved it will only be because Alon Shvut will grow even bigger. This will be our response to all the murderers and assassins as well as those who send them."