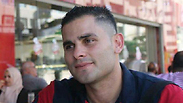 Face of a terrorist: Maher Hamdi Hashalmon killed Dalia Lemkus in attack Monday
Subject to constant incitement, driven by the desire for revenge, no familial obligations and lacking an organizational "umbrella". An examination of the men behind the wave of terrorist attacks of recent months reveals a relatively similar profile for each, with roots broadly planted in Palestinian political life, and whose specific actions eventually converge into the threat of another intifada.
Understanding that its activities in the West Bank are limited, Hamas and Islamic Jihad gave their weight to East Jerusalem. They began to encourage the Palestinian population there, with the intent of creating a "domino effect" of terrorists inspired by one another.
The events began with the murder of East Jerusalem teenager Mohammed Abu Khdeir and the IDF's Operation Protective Edge, and escalated with fanning the Palestinian fear of a change in the status quo on the Temple Mount. They did not act as part of an organized initiative or direct order from a terror organization, but received a boost from the incitement in the Palestinian media and on the social networks, who were calling for an intifada of knife and vehicular attacks.
An inspection of their profiles reveals that all the terrorists carried out their attacks without organizational direction, but as a result of the said incitement. All were single save for one, and most were in their 20s, with a background of security issues or from a family with a similar background. It appears that everyone knew their actions would lead to a lengthy prison term or death "in the arena", and because of this history these attacks are defined as sacrificial attacks born of ideology.
Mohammed Naif Ja'abis, 23 and single from Jabel Mukaber in East Jerusalem, carried out an attack using the tractor he was working on in Jerusalem during Protective Edge. He struck and killed a 29-year-old coworker, overturned a bus and wounded five other people before being shot dead by police and passing armed members of the Prison Service.
Ja'abis' family has no connection to anti-Israel activities, and those close to him maintain that he had no affiliation with the Palestinian factions. Ja'abis himself previously protested over incitement against drivers following the tractor attacks in the capital, but it is thought that he carried out his attack due to the military operation in Gaza.
Abdel-Rahman a-Shaludi, a 20-year-old Palestinian, single from the Silwan neighborhood of East Jerusalem, carried out his rampage at the light rail station at Ammunition Hill. He killed a baby and an Ecuadoran national, and wounded five other people. He was shot dead at the scene. Shaludi had a security record. According to Palestinian reports, he was released from jail in December 2013 after serving a 16-month sentence. He was arrested again last February for a period of one month.
A-Shaludi was also reportedly a close relative of the Muhi a-Din Sharif, aka "Engineer No. 2", a senior member of the Hamas military wing who was killed near Ramallah in 1998. Shortly after the attack, Hamas flags were hung around his house and a mourning tent erected in his honor.
Muataz Hijazi, a single 32-year-old Palestinian, was described as religious, withdrawn and reclusive. He attempted to assassinate Yehuda Glick outside the Begin Center in Jerusalem, where Hijazi worked. Hijazi was an Islamic Jihad activist, arrested after setting fire to electrical boxes for nationalistic reasons and served 11 years in prison - after his sentence was increased for assaulting other prisoners. He was freed in 2012, when it was evident that he was still holding extreme positions. In an interview he expressed the hope of being "a thorn in the throat of the Zionist plan to Judaize Jerusalem."
Ibrahim al-Akari, a religious 38-year-old Palestinian, was married with five children and lived in the Shuafat refugee camp in East Jerusalem. On November 5, he carried out the attack on a Jerusalem street, killing a Border Police officer and wounding 13 other people.
Akari was a known Hamas activist, but did not have a security record. His brother, Moussa, was a member of a terror cell that murdered policeman Nissim Toledano in 1992, and was freed and expelled to Turkey as part of the deal to return Gilad Shalit. On his Facebook page, Akari praised Hijazi for his attack, and the unusual decision by his family not to use the common claim that it had been a road accident. According to his wife, he "was upset by the violent clashes between Israeli security forces and young Palestinians that morning on the Temple Mount."
Nur a-Din Hashiya, the 18-year-old Palestinian from the Askar refugee camp, entered Israel illegally and on Monday stabbed to death IDF soldier Almog Shiloni at a Tel Aviv train station. Hashiya, who was wounded with his own knife during his arrest, is affiliated with Hamas and has previously expressed his support for the group.
Maher Hamdi Hashalmon, a single 30 year-old Palestinian from Hebron, on Monday carried out the terrorist attack that killed Dalia Lemkus in Gush Etzion and wounded two others.
Attack at Alon Shvut entrance
Hashalmon is a known Islamic Jihad activist who served a five-year prison sentence in Israel for throwing Molotov cocktails at IDF troops, and was released in 2005. His relative Musab al-Hashalmon, was deported to the Gaza Strip as part of the Shalit deal.