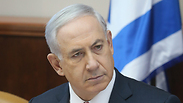 Prime Minister Netanyahu
Photo: Alex Kolomoisky
Prime Minister Benjamin Netanyahu announced Tuesday night a series of steps to be taken by his administration to combat the wave of violence sweeping the nation, including punitive measures against the parents of minors involved in clashes.

After meeting with the Security Cabinet earlier in the evening, Netanyahu said, "These steps include reinforcing forces across the country to increase the security of Israeli civilians, destruction of terrorists' homes and harsh responses to rioters throwing rocks, Molotov cocktails, and fireworks.

One of the new measures taken by Netanyahu to restore order will also seek to fine "the parents of children who throw rocks" and outlaw sources of incitement in Jerusalem.

"Terror has no borders," Netanyahu declared, "the terrorists do not want us in Jerusalem or Tel Aviv, not in Gush Etzion and not anywhere else."

The Israeli leader stressed that his Palestinian counterpart was contributing to the anger on the Arab street. "Abu Mazen is not a partner to the effort against the incitement. He has proven how irresponsible he is – instead of calming tensions, he stokes them."

"Instead of telling the truth, he is spreading lies as if we are attempting to change the status of holy sites. Instead of educating his people on peace, he is teaching them terror," he emphasized.

Netanyahu went on to criticize the conduct of the international community and the discriminatory treatment Israel faces in the global arena. "The international community, which condemns every balcony we build here, refuses to speak out against Abu Mazen."

The Israeli leader then addressed his largest minority constituency. "I call on Israel's Arab citizens - do not buy into this propaganda. You are citizens with equal rights and equal duties. It is the duty of every single citizen to operate within the law."

Netanyahu also promised to take control of the spiraling situation. "I vow to operate – decisively and responsibly – against terror and incitement."

The Israeli prime minister sent his condolences to the families of the fallen and wish a speedy recovery to the wounded. "This is the moment to unite. The more united we are, the stronger we will be."