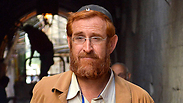 Sha'are Zedek Medical Center announced Tuesday that the condition of Yehuda Glick had improved. Glick, an activist demanding that Jews be allowed to pray at the Temple Mount, was gravely wounded by a gunman in late October.
The hospital reported that Glick was showing good progress towards breathing on his own. His family said in a statement that he had been breathing without assistance since the afternoon, and that his condition was stable. "He is still in intensive care for as long as the doctors decide," they said.
Meanwhile, Knesset Speaker Yuli Edelstein halted the afternoon plenum to announce that he had received a phone call from his friend Glick.
"You're the first people with whom I want to share my joy," Edelstein said. "A moment ago, I stepped down in order to speak with Yehuda Glick, who has been breathing unassisted for two hours.
"In Glick's usual style, he said, 'I know that you have struggled for the right to speak. For a few days, I struggled for the right to breathe. Now I'm breathing on my own and I wanted to share that with you.'"
Glick served as spokesperson for the Absorption Ministry during Edelstein's term as minister, and the two remained friendly. Edelstein thanked well-wishers and hospital staff.
Glick was shot by Moataz Hejazi, a 32-year-old Islamic Jihad operative from Abu Tor, who was waiting for Glick outside of a conference discussing the Temple Mount at the Menachem Begin Heritage Center in Jerusalem. Hours later, the would-be assassin was killed by security forces.