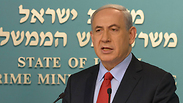 Prime Minister Netanyahu
Photo: GPO
Israeli Prime Minister Benjamin Netanyahu, speaking to a conference of Jewish leaders in Washington, on Tuesday sternly warned against a possible international deal with Iran that would end sanctions but fail to stop it from getting nuclear weapons.

Netanyahu spoke in an address to the assembly of the Jewish Federations of North America by satellite from Jerusalem as the United States and five other powers worked to try to reach a deal with Iran by a self-imposed November 24 deadline.

"It's obvious that Iran wants to remove the sanctions that have had such a devastating impact on its economy, but it should be equally obvious that Iran is not prepared to dismantle its nuclear weapons program in return," he said.

Netanyahu's remarks fed into a growing political debate in Washington over a possible deal, with many Republicans, who won power in the Senate in elections last week, suspicious about an agreement and considering imposing even tougher sanctions.

Netanyahu said it would be a huge mistake to end sanctions and then rely on intelligence and international inspections to make sure Iran did not go ahead and develop nuclear weapons.

US and Israeli intelligence had failed to discover Iranian secret facilities in the past, and inspections had not prevented North Korea from building a nuclear weapon, he said.

Iran denies its nuclear program is intended for military purposes.