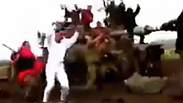 After Hamas scored a summer hit with their unofficial terror anthem entitled "Up, do terror attacks" – a song that urged the extermination of Jews – the Gaza-based group has now released a new track vowing to banish Zionists from Israel.


The new song opens with a fresh warning to Zionists, vowing that "their day will come when they will be put on the gallows." The lyrics also call Israelis "outsiders in our land", and adds that "it is our duty to uproot you – we will remove you from our midst forever and always".

New Hamas song

The lyrics of the song, which like previous releases was sung in Hebrew, revealed a surprisingly proficient knowledge of the IDF and Israel's historical defense organizations: "Let Etzel and Lehi (pre-State military groups) who are in their graves feel the taste… Finish off Yasam (the Israel Police Special Patrol Unit) and Yamam (SWAT)," the song goes on to say.

After the previous song became a viral hit on social media due to its poor Hebrew enunciation, famously replacing, for example, "piguim" (terror attacks in Hebrew) with "biguim", the new song makes a special rhetorical effort. Phrases declaring Palestinians will cause Zionists "to beat their breasts" and other which call Zionism "an incurable disease", are perfectly pronounced in eloquent Hebrew that would have made Ben Yehdua proud.

In the video clip, dominoes with insignia of different military elite units including Nahal, Givati, Golani and others, topple down one after the other, later catching on fire, while the words "do not leave a single soldier of them" are sung.

The song was released during a particularly sensitive time, after a soldier and a settler were killed in separate Palestinian knife attacks as months of unrest in Jerusalem spread across the country.

On Monday a 17-year-old Palestinian in Tel Aviv stabbed a 20-year-old soldier who later died of his wounds in hospital. The assailant fled but was arrested.

Hours later, a Palestinian attacked three Israelis outside the Alon Shvut settlement in the southern West Bank, killing a young woman and wounding two other people before a security guard shot and critically wounded him.

The bloodshed followed months of clashes between Israeli security forces and stone-throwing Palestinians in and around annexed east Jerusalem.

AFP contributed to this report.